Joined up support for the Class of 2021
A Perth and Kinross partnership organisation is working with young people to ensure that no-one is left behind. 
Young people moving on from school this year will have very different experiences to those in previous generations, thanks to the work of the local Developing the Young Workforce (DYW) group. The group includes the local authority, Skills Development Scotland (SDS), schools, colleges, and employers. There are also members of a recently established Youth Board.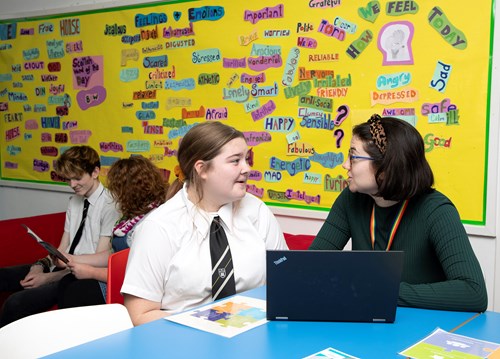 We could see the impact of the pandemic and our focus was on helping young people move forward from school. Our strategic priorities were to Educate, Inspire and Grow. 
Lesley English
Perth and Kinross Council Employer Engagement Adviser
Lesley continued, "Our key priorities were to develop young people to their full potential with peer-to-peer support, connect with employers to open up opportunities for work experiences, reconnect with young people on what matters most to them and grow network opportunities."  
This led to the creation of skill-based workshops facilitated by young people or coaches, support to ensure young people are ready for the step from education to employment through networking with businesses and universities and promotion of work-based opportunities with partners such as the Scottish Apprenticeship Network, organisations and employers. 
Lesley said: "When lockdown started there was a lot of discussion about what we were not able to do, but a board member said the young people of Perth and Kinross were depending on us and so the Class of 2020 – now the Class of 2021 – was born." 
Lesley led a task team with a representative from local employer Aviva, a SDS careers adviser and a student careers adviser and enlisted support from secondary schools, Perth College UHI and Modern and Graduate Apprentices.  
The group spoke with young people about how employers could help them and vice versa. The Young Persons Board was set up which works in tandem with the regional DYW Board. Mentoring opportunities are offered to members of both boards.  
The board's ambition is to inspire a future generation of young people with the skills and experience board members have gained in their careers. When young people are making the step from education to the workplace, this will offer them with the chance to develop fundamental life skills that will be beneficial to their career and future prospects. 
I believe it is involving young people in shaping developments and delivering peer to peer activities which 'keeps it real'. Young people will also encourage employers to 'step up' and support the agenda.
Lesley English
Perth and Kinross Council Employer Engagement Adviser
The value of this collaborative approach was important, not just for those young people leaving school this year, but for years to come. To have everyone working together to support young people's next steps in their careers can only be a positive thing for individuals, educators and employers, but especially for those in the Class of 2021.
Mark Steell
National CIAG Manager for Employer Engagement, Skills Development Scotland