Dundee and Angus and the learner journey approach
The SDS Education team has adopted the Learner Journey Approach to help embed effective career education. 
The approach supports partners in key sectors working with learners from an early age, throughout their education and beyond to identify, capture and articulate their skills development to help them enter and thrive in the future, uncertain and volatile world of work.  
Partners in Dundee City have been working together to create an exemplar approach. 
Building on previous partner engagement work carried out by SDS across the education sector in Dundee City, a steering group was formed in Spring 2019 to explore a city-wide approach to skills profiling using My World of Work (MyWoW).  The group has representation from Dundee City Council (DCC) Education Department, Dundee & Angus College, SDS, Baldragon Academy, St Paul's RC Academy and their respective cluster primary schools.  Key milestones and a timeline were agreed at the outset.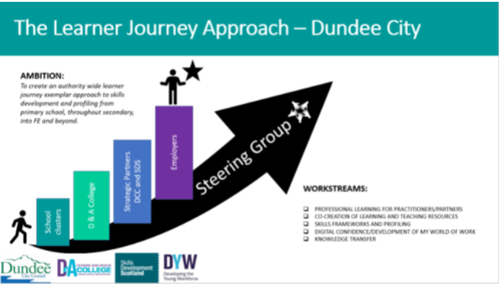 To help boost practitioner confidence, partners organised a highly successful CLPL session involving subject teachers, curriculum leads from D&A College and local employers with a focus on stimulating discussion and sharing practice in identifying, developing, capturing and articulating Skills 4.0 meta-skills.  Training was also delivered by SDS on the younger offer on MyWoW to P5-P7 teachers from cluster primary schools.  
The approach was jointly showcased at the annual Scottish Learning Festival, was subject of a 'How to' good practice article in the annual College Development Network (CDN) Reach magazine for the FE sector and partners have recently been invited to present a workshop at the national CDN Expo in June 2021.  
Since it was first established, the steering group has expanded its ambitions:  
Skills Champions have been introduced to help promote skills discussions with learners and develop practical resources 
DCC Pedagogy team have joined the group to include their review of skills frameworks 
Group members are engaging with the new suite of SDS e-learning modules to support staff professional development 
Tailored online presentations have been delivered to DYW Leads and NQTs 
The MyWoW resources for primary school pupils are being utilised to develop profiles and support smoother transition to S1  
Group members will be taking part in insight work and testing to inform new MyWoW developments including a new skills tool for primary pupils.    
The aim is to have a consistent authority-wide approach to skills and profiling with confident, fully informed and engaged practitioners using the latest framework and resources, in order to provide an effective and supportive learner journey for all young people in the city.