Career Management Skills explained
The world of work is changing rapidly.
Through our careers services, we are working to equip our customers with the skills and confidence they need to navigate the changes ahead and take advantage of opportunities that arise.
Our professionally qualified careers advisers do this by supporting all our customers to develop their Career Management Skills (CMS).
CMS empower individuals to identify the skills they have and the ones they need to develop, to help them realise their potential at any stage in their life.
A workforce with CMS supports economic growth by putting the right people in the right jobs connecting the needs of people and businesses.
Our approach focuses on four key themes: 
Self – Achieving a clear understanding of who you are, what is important to you and how you fit into the world around you
Strengths – Developing an understanding of what you're good at and how you can use your strengths
Horizons – Learning to visualise, plan and achieve career aspirations throughout your entire working life
Networks – Understanding the importance of work and social relationships in building your career.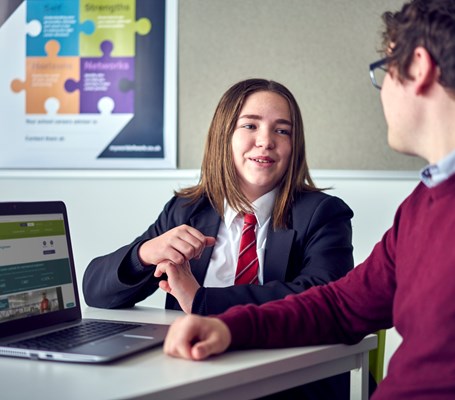 At their heart, career management skills are about happiness. We want people working in Scotland to be happy, fulfilled and realising their potential. Developing career management skills builds up a knowledge not only of who you are and what you're good at, but what you want to work towards next and who can help you to take those steps.
If you're in a job that gives you a sense of self-worth, where you can use and build on your strengths, see all your options and the people that can help you to grow, develop and move on, you will be happy at work. Those are the skills SDS careers advisers are working with people across the country to develop.
Sandra Cheyne, Career Management Skills Policy & Professional Practice Manager, SDS
A Scotland-wide approach
The CMS approach is embedded throughout SDS services. 
As well as delivering it through our careers advisers  and careers web service My World of Work, we work in partnership with other organisations to deliver CMS in schools and colleges across Scotland.
The CMS Framework for Scotland was developed in partnership with Scottish Government, Education Scotland, Scottish Qualifications Authority and other professional guidance practitioners and academics.
Partners also include schools, training providers, colleges and universities, employers and Jobcentre Plus.