14 November 2023
An Introduction to Modern Apprenticeships for Employers
When: 14 November, 10am - 11am
Where: Online
Who for: Employers
Registration: Register online.
Event Details
The event takes place during Scottish Careers Week and Inclusive Employers Week Scotland - which aims to help employers increase their knowledge about the support that is available to recruit and retain disabled talent.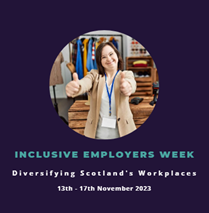 Scottish Careers Week
Scottish Careers Week is back for its third year from  13 to 17 November 2023 — and you can get involved!
Download toolkit