11 November 2022
Delivering Scotland's Career Service 2021/22
The fourth annual report on our career services outlines the impact and breadth of our delivery across Scotland.
Skills Development Scotland (SDS) has published the Delivering Scotland's Career Services 2021-22 report as we celebrate the end of another successful Scottish Careers Week.
The report uses a mixture of statistics and narrative to demonstrate our career information, advice and guidance (CIAG) service delivery across: 
Broad General Education
Senior Phase
Next Steps and Universal Services
PACE
Education Team
Results Helpline
Our work with parents
It includes an introduction from Sharon McIntyre, Head of CIAG Operations and a update on the 
Career Review programme
 from James Russell, Senior Responsible Officer for the Career Review and Director of CIAG Operations at SDS.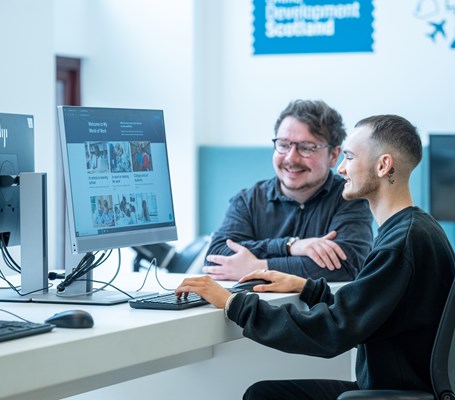 Key highlights
We delivered CIAG services to 86,266 pupils across Scotland in 2021/22
We supported 7,724 Next Steps customers through 25,654 one-to-one individual or group sessions. The mean score for overall customer satisfaction with the Next Steps service was 4/10
Our CIAG Helpline handled 6,134 calls and the mean score for customer satisfaction was 6/10
Our Education Team delivered 158 workshops involving 4,032 people
The report also summarises the impact COVID-19 had on our service delivery.
Patricia Thomson, Planning and Performance Manager explains: "The statistics in this report cover the period when we were severely impacted by the restrictions during the COVID-19 pandemic.
"This report demonstrates the effectiveness of our delivery over this turbulent time and the recovery and progress we have made. It's very encouraging to see our delivery returning to normal but with the added permanent benefit of the CIAG Helpline for customers who are unable to come to see us in person."
Download and read: Delivering Scotland's Career Service 2021/22