30 June 2022
Results Helpline 2022
Results helpline 2022 - help us spread the word! Almost 145,000 students across Scotland will receive their results on Tuesday 9 August 2022.
Once again, Skills Development Scotland's (SDS) Results Helpline will be there to offer information, advice and guidance to Scotland's young people and their parents and carers.
SDS results help is a key contribution to the Scottish Government's Young Person's Guarantee, supporting every 16 to 24-year-old in Scotland into a work or learning opportunity.
The SDS Results Helpline number is 0808 100 8000 – this goes live on results day, Tuesday 9 August and our expert advisers will have access to information on course vacancies at UK colleges and universities, Confirmation and Clearing, advice about Foundation, Modern and Graduate Apprenticeships and jobs, volunteering, training or staying on at school.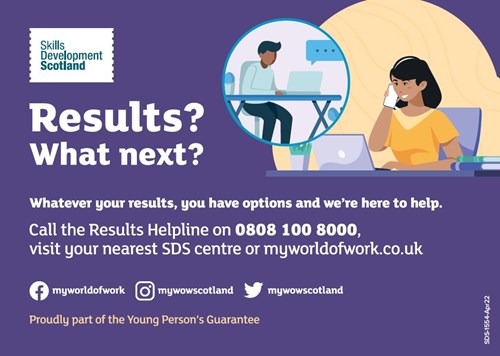 Here are some ideas to help spread the word with your colleagues for awareness and to encourage them to promote through their own networks (suggested copy is included in the Results Helpline partner toolkit, and links to download social assets are below):
posting a blog or news item on your website highlighting the support services available from SDS in the run up to and when results are confirmed on 9 August

sharing details of the support available on your social media channels

updating information on your website to include details of the help and support available

pointing learners, their parents and carers to SDS's support through your e-newsletters or emails.
Your career service is here to help: 
For parents and carers: 
If you have any questions, or need any further information, please contact marcomms@sds.co.uk