Recommendation 1: A new career development model
A simple model should be established that defines career services, bringing definition to the variety of career services across Scotland.
I know what learning experiences I can expect to take part in to help me make decisions about my career.
- The outcome of this change for a young person using career services
Why has this been recommended? What did the evidence say? 
There is high demand for career support, which can often go unmet 
There are inequalities in terms of access, take up and quality of services 
Disadvantaged young people and those not considered 'high achievers' or pursuing an academic pathway can find it difficult to access services they need 
Career services can be fragmented – greater integration is needed 
There is evidence of "initiative overload" in the education system and increasing pressures on schooling.  
Find out more about the evidence gathered through the Career Review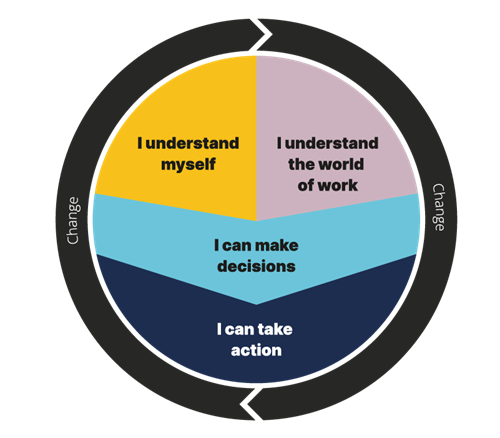 The change 
A new career development model that provides a national delivery framework for any organisation supporting career choices 
Coherence and consistency in the delivery of career services, leading to improved outcomes  
Clearer roles and responsibilities across the ecosystem 
Reflection on career experiences is fundamental to the individual's progress. 
What is the prototype?
The prototype model (see image above) was co-designed with young people and stakeholders using a 'top to bottom process' focused on helping young people to: 
understand themselves 
understand the world of work 
develop the intelligence to help them make better decisions 
draw on these experiences, insights and intelligence to take action, e.g. about a job or applying for further learning. 
A key feature is that these skills and competencies are not taught; they are gained through the experience of different interventions and activities that will be aligned to the model.  
This prototype will be further refined, developed and tested with a range of audiences through the next phase of the Career Review. 
The co-development of implementation plans with each part of the eco-system will define the change that may be required to successfully adopt and embed this model. 
How will it address inequalities?
The model recognises each person as an individual with their own distinct needs.  
It will offer meaningful and accessible support in career development, tailored to them, when they need it. It supports equity of access in any setting; everyone will experience a similar standard of service irrespective of who is offering it. 
Download the Career Review Equality Impact Assessment
What happens next?
The Career Review Programme Board will lead the co-development of the career development model involving all partners

 

The Career Review Implementation Plan and Target Operating Model will incorporate a review of current resources and estimate the need for any additional resource to deliver services aligned to the Career Development Model

 

The Career Review Implementation Plan will detail an approach to co-develop and implement a suite of tools that will allow young people and practitioners to identify their career needs as aligned to Career Development

Model.