Scottish Rural Paraliament
Artemis Pana, National Coordinator at Scottish Rural Action tells us about the Scottish Rural Parliament and it's work with the rural communities of Scotland
Artemis Pana, National Coordinator at Scottish Rural Action tells us about the Scottish Rural Parliament and its work with the rural communities of Scotland.
In the face of global challenges including the climate emergency, biodiversity loss, rising cost of living, and human migration, rural and island places experience particular impacts and constraints yet, overwhelmingly, they are also the source of solutions.
98% of the land in Scotland is defined as being rural with over 90 inhabited islands and 17% of the population. There is recognition from governments and institutions at all levels, including the European Commission and the OECD, that now is the time to accelerate policy efforts towards ensuring the wellbeing of rural and island regions, and to be open to radical new thinking about the role of rural and island areas in managing land and resources. We need a populated rural and island landscape, with a skilful population, in order to contribute to a sustainable Scotland and to global change.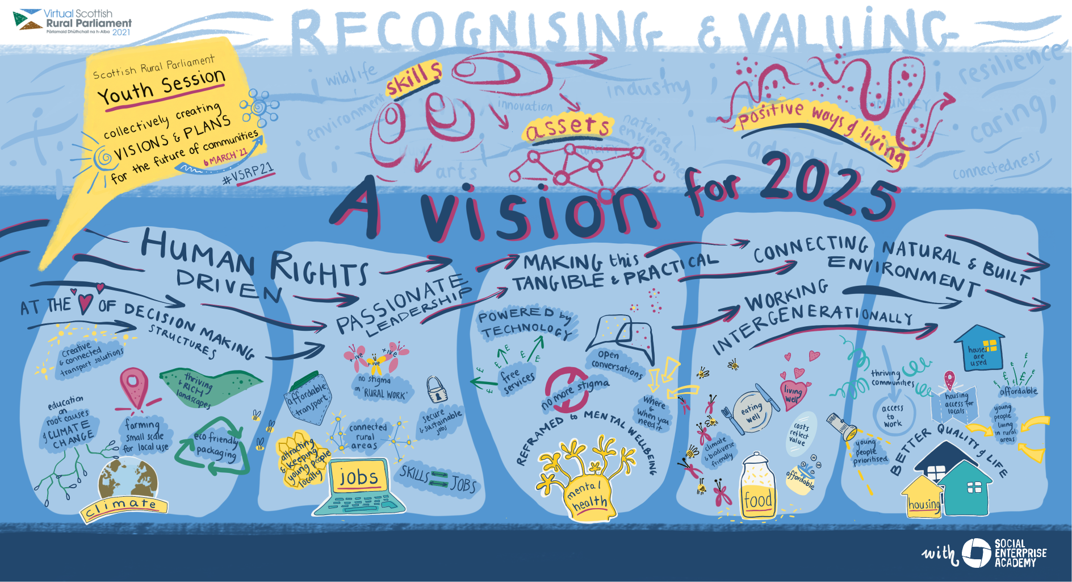 A Rural Parliament contributes to achieving this. It is not just a conference. It is a long-term, grassroots-driven process to amplify the voices of rural and island people; and to help mobilise rural and island communities in partnership with civil society and government.
Such Parliaments provide platforms to connect communities to each other and to decision makers, facilitating dialogue and giving rise to directions for policy and practice, captured in a manifesto. Through cross-border structures, like the European Rural Parliament, they also serve to connect communities and governments across different countries and regions.
Our own Scottish Rural Parliament runs on a two-year cycle, the most recent cycle concluding in 2021. Secretariat was provided by Scottish Rural Action and the Scottish Islands Federation. Over 1,500 people participated in the online events, and 100 organisations curated or helped deliver the sixteen sessions. The themes of education, skills and knowledge exchange crosscut all sixteen sessions, whether it was highlighting the enormous benefit of Graduate Apprenticeships to local businesses and the repopulation of rural and island places; calling attention to the Outer Hebrides' approach to aligning the school curriculum with the characteristics of the local economy; or shining a light on the person-centred and peer-led enterprise support services offered by organisations like InspirAlba, Impact Hub and Growbiz Scotland.
Younger delegates at the youth-led session saw enormous opportunities for rural and island young people within emerging industries, including those linked to the renewables and mobility sectors. They also saw enormous opportunities within established sectors such as agriculture and tourism that are undergoing transformation but pointed out that getting the right experience can be a barrier to accessing these opportunities. They recommended that education, skills and knowledge exchange initiatives must be delivered through local organisations and tailored to local contexts so that they are accessible and relevant.
These messages were taken up across the whole Scottish Rural Parliament and were also discussed at the fourth European Rural Parliament which took place in September 2022 in Poland. As we move towards the next Scottish Rural & Islands Parliament (yes! we felt it was very important that islands get specific acknowledgement) which will take place in Fort William in November 2023, there will be multiple opportunities to reflect on how much progress has been made and what still needs to be done. It may be that the Rural Parliament curators work with Skills Development Scotland to develop a specific session around skills and knowledge exchange. The topic is critical for our future.