Rural Leadership Programme
Julia Latto, Project Manager in the Scottish Enterprise Rural Team, tells us about the Rural Leadership Programme and how it helps to develop individuals in rural business to become leaders, contributing towards business strength and growth.
I've been Project Managing the Rural Leadership Programme for over 14 years and have a passion for helping unlock the leadership potential in people and growth in Scotland's rural enterprises.
In addition, I also lead on a range of national rural projects for Scottish Enterprise so have many opportunities to travel across Scotland to work with our Rural Leaders. There have also been opportunities to travel abroad to talk about our work with international counterparts including Memphis, USA and Seoul, South Korea. 
The Rural Leadership Programme has been running annually since 2006, engaging with business leaders and owners from a wide range of sectors across rural Scotland including agriculture, tourism and hospitality, food and drink, energy, horticulture and rural services. It's delivered in partnership with HIE and SoSE, and already has nearly 700 Rural Leaders (graduates of the Programme) in the alumni, growing to nearly 900 by March 2025.
In terms of benefits of participation, the Programme has consistently demonstrated significant positive growth in leaders and their businesses.
The core 6-month programme runs from October to March and develops the capacity of individuals as leaders in ways that are transformational for many, using a series of workshops and practical content focusing on mindset (through one-to-one coaching), leadership and business growth, raising ambition, confidence, strategic thinking, decision making, innovation, building industry and parliamentary connections, and widening personal networks.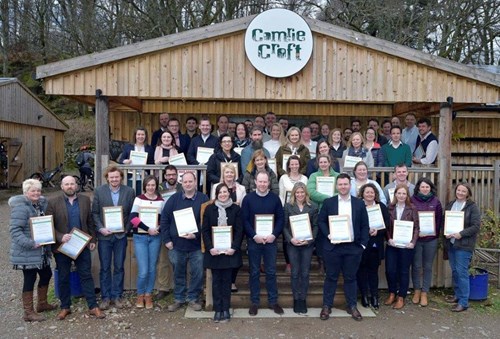 The Programme has a strong reputation both in Scotland and internationally. The network of nearly rural leaders continues to go from strength to strength through a number of events and engagement through social media – fostering regional and national connections and collaboration amongst like-minded leaders.
The Scottish Enterprise Rural Team lead on the project and have been delivering and developing the Programme for over 16 years. The team ensures the essence and ethos of the Programme remain core as the model evolves over time.
Their core principles are:
Outstanding customer relationships in everything we do

Developing a culture of leadership

Providing a platform to ensure voices are heard

Adapting to changing rural economies

Addressing rural isolation in business

Providing a unique network which can be leveraged for growth opportunities

Fostering innovation and creativity
A sample of Rural Leadership Programme outcomes include:
Empowering leaders to see more clearly opportunities and act on these for business changes and growth

Release of innovative thinking on new approaches and processes to tackle challenges

Investment in themselves and the business, taking decisive action with greater confidence and awareness of risk and mitigations

Increased outputs, new products, value add services and making moves into new markets with greater growth potential

Protecting jobs, creating new jobs, and upskilling opportunities linked to sustainable economic investments including transitioning to net zero

Network of relationships with real tangible business benefits within local, regional rural communities and with other locations/contacts nationally and internationally

Accessing rural policy makers, industry influencers and routes to growth including finance with less reliance on public support programmes

Being more vocal around the need for moves beyond basic subsidy and grant programmes to encourage a stronger, sustainable more confident and enterprising rural economy in Scotland
Project managing the Rural Leadership Programme is a privilege and honour. The businesses who participate on the Programme are highly innovative, ambitious, driven and forward thinking with a passion to grow their business, increase employment and support their local communities.  And helping them to build leadership skills is key to helping them growth their business and contribute to thriving rural communities. 
We continue to evolve and develop the Rural Leadership Programme. During the pandemic we adopted a hybrid approach, combining in-person and online. The SE Rural Team also hosted and delivered two Global Connections events – linking Scotland's rural leaders to counterparts in Australia, USA and Canada. These successful events demonstrated the importance of maximising digital for the benefit of the network – to share knowledge and best practice, foster new relations, expand mindset and explore new opportunities with over 100 leaders. We're excited to see where these new global connections will go!
If you'd like to hear more from some of the people who have gone through the Rural Leadership Programme you can take a look at some of the rural leader blogs .  You can also keep up to date with the rural leaders by following @ruralleaders on Instagram and Twitter.