Insights of a Conservation Apprentice
Niall Provan tells us about his experience as a Conservation Apprentice and the opportunities that it's led to working in a rural environment.
I began pursuing a career in the conservation sector with a route familiar to many – I applied for the Countryside Management course at Scotland's Rural College (SRUC). This was due to a love of hill climbing, the outdoors and the Scottish landscape as a whole from a young age and a desire to pursue working in these areas as a career. Following college, I've found I learn best in the field and on the job – my time as a Modern Apprentice (MA) showed me that.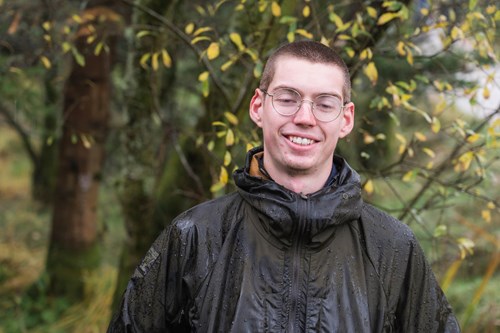 Throughout my MA I worked as part of the Callander Landscape Partnership (CLP), where I was involved in many volunteer days around the Callander area and beyond. The days with the CLP volunteer work party had us carrying out practical habitat management, such as rhododendron bashing, as well as installing and surveying bird and bat boxes in the Callander Crags area. These were great experiences for trying new things and building practical conservation skills, but also for meeting and working with like-minded people, while improving my confidence too.
I was also fortunate enough to take part in a large-scale tree planting project, which was headed by the Forth Rivers Trust. This involved the planting of a large section of riparian woodland on a tributary river of the River Larig, near Inverlochlarig. This was a great project for taking me out of my comfort zone, involving me working in a remote area on a project of significant scale. This project is one of many aiming to tackle the rising issue of climate change. It aims to do so by supporting the cooling of rivers with tree cover, allowing for more suitable fish spawning habitat. The trees also support invertebrate life, nutrient input into the river as well as support the wider "rewilding" of glens like these that have been largely devoid of native trees for hundreds of years due to agricultural land use. This project particularly motivated me, being able to work in a dramatic Highland landscape while contributing to nature and conservation.
As well as developing my skills throughout these projects, I was also incredibly fortunate to be able to attend a number of practical training courses. By the end of my MA, I was a qualified first aid trainer, as well as being able to operate machinery such as chainsaws and brushcutters in the workplace. These were put to use within just a few weeks in my new role, proving their worth immediately. MA's have the potential to be quite flexible with training budgets depending on your individual interests and the needs of the role, so there is scope for pursuing training you feel would be most valuable to your career.
I soon moved onto my next role as a Project Support Officer with the Forth Rivers Trust, which has been fantastic so far. I've been working as part of a team continuing work on the River Larig, with this portion of the works being funded by NatureScot as part of the Biodiversity Challenge Fund. Aims of the project include the planting of over 7,000 native tree species in the glen along the riparian corridor, along with green bank protection and in-river restoration works with the use of large woody debris structures. These measures aim to improve habitat for salmonid species, particularly migratory Atlantic salmon. The increased cover provided by the trees and the large woody debris structures in the river will provide the salmonid species shade and refugia from the heat of the sun as well as predators. So far the work has been very fulfilling, and it's incredible to work in this kind of landscape every time I head to work.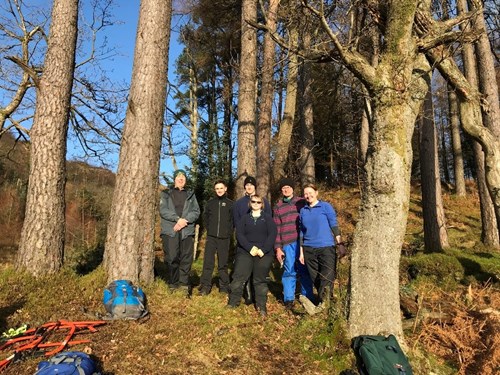 Along with the training I gained during my MA, during my time with Forth Rivers Trust I've completed a training course for sit-in skid-steer ATV's, allowing me to drive a tracked Argo for on-site use. I've also completed training on electrofishing, allowing me to carry out a surveying technique which is vital to our work. I am also looking into doing a course on Geographical Information Systems, as this is a skill highly sought after in the conservation sector and very applicable to my role.
I've had a fantastic few years following finishing college, and found a great love for what I do. Working in rural Scotland can be tough, but incredibly rewarding on those beautiful days working outside with a great bunch of people.
To see more about Niall's career, watch this short video that he did with Lantra Scotland.