The SDS PhD programme was established to strengthen links with the academic community in Scotland to support policy-relevant skills research.
Through this programme, a new body of research will be produced aligned to the evolving skills agenda in Scotland. The focus of the research is to examine key questions in skills policy, skills delivery and Careers Information, Advice and Guidance (CIAG).
It will also help to develop a new group of researchers with an in-depth understanding of the unique Scottish skills landscape.
This programme is a partnership initiative between Skills Development Scotland, the Scottish Graduate School of Social Science (SGSSS) and the Economic and Social Research Council (ESRC).
SDS is positioned as a jewel in the crown for our collaborative PhD programmes.
Prof Mhairi MacKenzie
Depute Director at the Scottish Graduate School of Social Science
Up to four sponsored SDS PhD studentships are enrolled each year. SDS identifies important skills-related topics and works with SGSSS to invite PhD proposals from academic supervisors. SGSSS and SDS then select the most suitable proposals received.
Successful PhD proposals are co-funded by SDS and the ESRC. SDS works closely with the host university, academic supervisors and the student to support successful completion of the PhD. Each PhD student has an SDS PhD Sponsor who links the student into SDS and the wider skills community.
The SDS Sponsor also has an important role in promoting the PhD research to relevant SDS teams, ensuring that key findings from the research are embedded in the policy and practice of SDS.
Currently we have 17 students enrolled in the Programme.
Our students are each supported by their academic supervisor and an SDS sponsor.
For more information please check out the PhD Programme Brochure 2023.
The SDS Collaborative PhD Programme has many benefits for SDS and its stakeholders:
Increased awareness of the value of academic research within the skills policy community
New opportunities for doctoral candidates to develop their knowledge and understanding in a policy context
A new cadre of high-quality academic researchers with a deep knowledge of the Scottish skills landscape and system
New opportunities for PhD students to develop their skills and expertise within a workplace setting through PhD internships
New investment in high quality skills research, providing a robust and rigorous approach to tackling key skills policy questions
SDS has co‐funded 22 PhD research topics to date, including two new PhDs due to start in October 2020. These studentships represent an emerging 'body of knowledge' on key skills and Career Information, Advice and Guidance (CIAG) issues.  
The broad topic areas are:
Work-based learning and the Apprenticeship family 
Workplace learning and innovative workplaces
Work readiness (including graduate attributes)
The impact of new information technology 
Social networking and the role of Career Management Skills (CMS) 
Lifelong learning policies & young people's career development 
Barriers to labour market entry (health, wellbeing and disability) 
Labour market outcomes for ethnic minority people 
In partnership with the Scottish Graduate School of Social Science – Doctoral Training Partnership (DTP), Skills Development Scotland co-funds four new PhD studentships in social science subjects each year commencing in October. 
SDS works with the SGSSS-DTP to support innovative and cross-cutting research on skills-related issues of relevance to Scotland. The four new studentships starting this year are:
How Artificial Intelligence Can be Used to Enhance the Provision of Labour Market Intelligence. 
Edinburgh Napier University, primary supervisor Dr David Brazier.
The Impact of Gender Stereotyping on the Role of Young People's Choices in Relation to Apprenticeships.
Edinburgh Napier University, primary supervisor Dr Ella Taylor-Smith.
How Virtual Working Impacts on Disabled Young People as they Transition from Education to Work.
University of Glasgow, primary supervisor Professor Kathleen Riach.
The Implications of Virtual Working for Career Information, Advice and Guidance.
University of Glasgow, primary supervisor Dr Scott Hurrell.
For further information on topics, please contact phd@sds.co.uk.
For updates on our internship opportunities, please visit the SGSSS website http://www.socsciscotland.ac.uk/ 
Previous internships opportunites have examined: 
Long Term Outcomes of Modern Apprenticeships: OECD framework 
Employability Fund: successful transitions and partnership  
Social media and job searches
Linking administrative data for measuring impact   
Inequalities in the labour market 
Measuring the wider impacts of work-based learning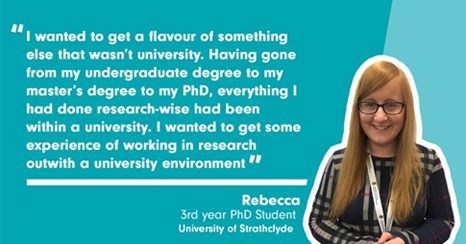 More details 
The SGSSS-SDS Internship Competition gives current SGSSS students (all students registered for a PhD degree in Scotland, however funded) the opportunity to apply to undertake an internship. 
Please note that these internships present opportunities to work outside the topic area of a student's PhD to develop a range of transferable skills, enhance employability and provide the experience of working within a public sector organisation. 
How to apply 
Applicants should submit an online application form, available on the SGSSS website which includes space for a statement of support from your principal supervisor, along with a two-page CV. 
Although you can apply for more than one, candidates can only undertake one internship. Potential applicants are strongly encouraged to discuss their applications and areas of interest with the relevant SDS contact for the project in advance of submitting their application. 
For further information, please contact Emma Hollywood or Vicki Kincaid.