Working closer together yields fresh career outlook for Rebecca
As Rebecca Ashton-Smith, from Livingston, neared the end of her contract at West Lothian College she pondered her next steps. She had a good idea of what she wanted to do and even found an exciting job opportunity open for application.
However, she wasn't too confident with her ability to sell herself on her CV or identify some of the wider skills she'd acquired in her work experience to date.
Fortunately, Skills Development Scotland (SDS) had just relocated to the college making it very simple for the college centre manager to enquire about the careers support on offer, and how it could help Rebecca in particular.
Careers Adviser Jolene Keddie was able to explain SDS's support for adults and made an appointment with Rebecca to discuss employability support. Jolene explained the importance of 'Career Management Skills' and its benefit to shaping career planning.
Focusing on Rebecca's unique needs, Jolene encouraged her to think about what she wanted to get from their sessions together.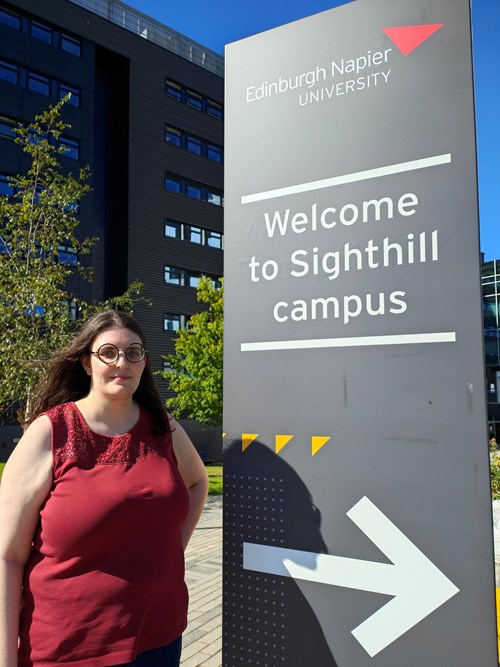 The more she thought about her skills the more she recognised where her strengths are and what we needed to focus on further.
Jolene Keddie, Careers Adviser
Rebecca said: "I found the careers meeting really helpful and I also found there was a section to My World of Work I had never visited before, so this was really useful!"
The pair worked closely to produce a tailored CV by using the tools offered by My World of Work, combined with Jolene's expert guidance. After identifying her best attributes, Rebecca felt more prepared to start her preparations for a job interview.
Rebecca secured a new full-time position with Edinburgh Napier University as Admissions Assistant, which she credits to the expert one-to-one guidance she received.
Sher added: "I knew my CV had to be concise, but with so much education and experience behind me, it's difficult to shorten it to a point where it won't be thrown out or mistaken as a cover letter. Being able to talk with a careers adviser about the information on my CV, and what people look for, was helpful to get my brain around and from there it was smooth sailing."
Of their time working together, Jolene said: "Working with Rebecca was a pleasure. She already had a rough idea of what she wanted to do and the type of work that interested her, but we just had to do a bit of digging to improve her confidence. The more she thought about her skills the more she recognised where her strengths are and what we needed to focus on further."
Following the move by SDS into the West Lothian College campus, SDS Team Leader Katie McKenzie said: "Being based within the College has presented real opportunities for our team to work more closely with young people and adults in the local area. We have seen such a positive impact so far."
Follow SDS West Lothian on Facebook and Twitter @SDSWestLothian to find out how you can access expert careers support.
Make an appointment
To make an appointment with a Careers Adviser in your local area, call 0800 917 8000 or find out how to find your local services.
Find us