GE Aerospace apprentices are engineering bright futures
Apprenticeships are in the DNA at GE Aerospace Caledonian, an apprentice employer since 1980, where the class of 2023 are soaring to new heights.
More than half of the 600-strong workforce at GE are former apprentices with the Prestwick-based firm, a full-service aero engine overhaul facility founded more than 40 years ago.
Foundation, Modern and Graduate Apprenticeships
The company has 42 Modern Apprentices on pathways such as aircraft powerplant overhaul, mechanical and electrical maintenance, welding and machining.
GE also has one Graduate Apprentice completing the Engineering Design and Manufacturing apprenticeship in partnership with Strathclyde University and continues to support Ayrshire Foundation Apprenticeship pupils through the work-based learning aspect of their qualification.
One such successful former GE Modern Apprentice is 21-year-old Fraser Wallace, who went on to be crowned Scotland's Apprentice of the Year in 2018.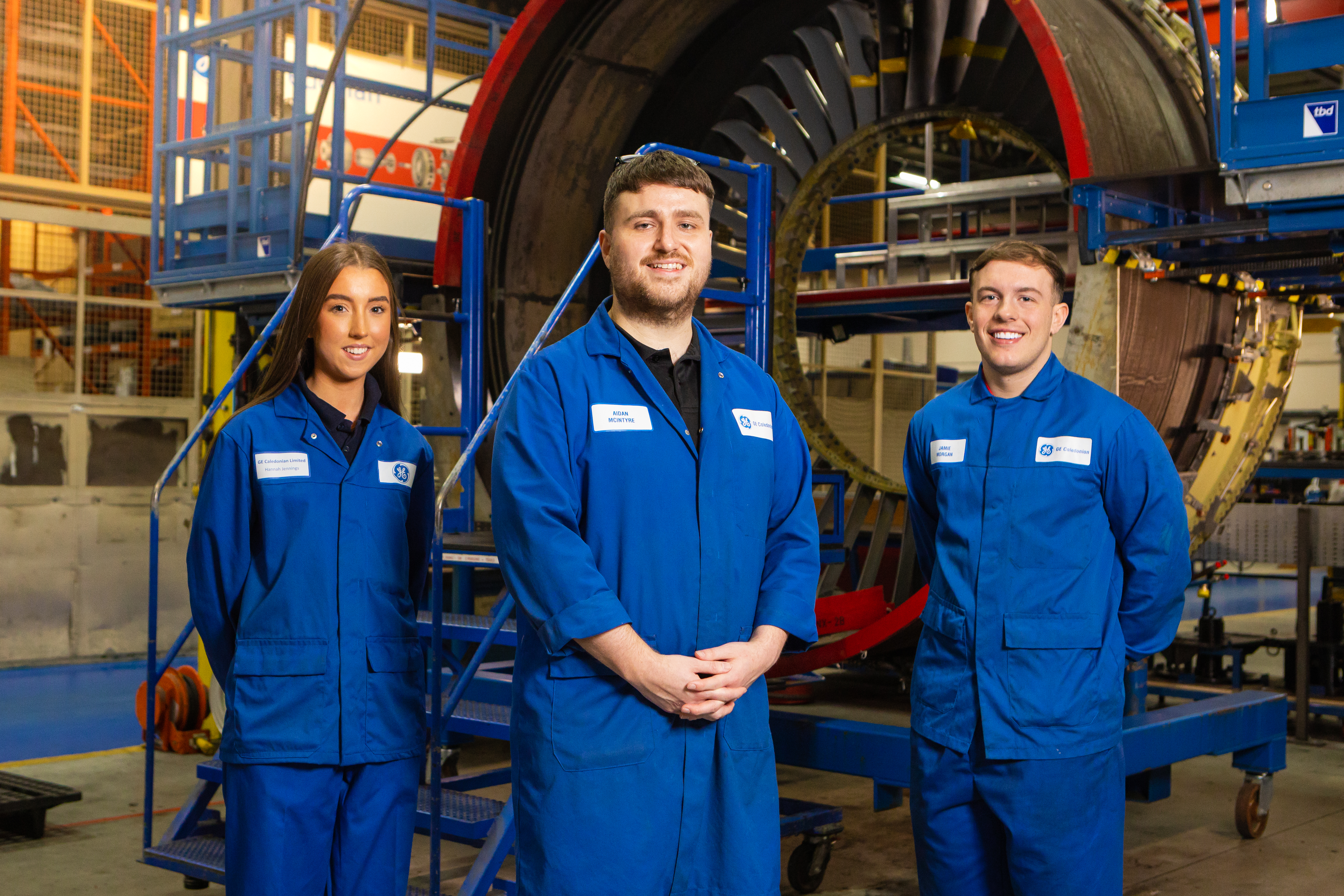 GE Apprentice Co-ordinator Aidan McIntyre said: "The seed was planted when Fraser was just 15, when he did his Greenwood Academy work experience with us and asked to come back for his Foundation Apprenticeship work experience.
"He was incredibly academic and decided that the workplace was the best place for him and he's not looked back.
"Since he finished his Modern Apprenticeship he has had two promotions and is now at what's known as a professional band role as a quality engineer, so operating at a really good level of the business just 18 months after completing his apprenticeship.
"He's a superstar but the Foundation and Modern apprenticeships played a key role in getting him to where he is today.
"Fraser also joins us when we go back to talk to pupils about apprenticeship opportunities. He is passionate about it and wanted to make a difference."
All GE apprentices are registered STEM ambassadors and registered for Duke of Edinburgh Gold. The firm's apprentices can also take part in the Fuel Change Challenge and support the organisation's approach to Net Zero.
Attracting women into engineering
GE's apprenticeship programme enjoys 20 per cent female representation, above the national average, and the company makes sure strong role models, such as 20-year-old Hannah Jennings, are visible and accessible to aspiring apprentices.
Aidan said: "Hannah decided to pursue an apprenticeship after a conversation at her school careers event. We had a presence there with two apprentices, one male and one female. They inspired her so much that she did the course required.
"The following year Hannah applied for an apprenticeship. She is now in year two of her Modern Apprenticeship and is part of our women's network, which goes back out to schools to pay it forward by inspiring others."
Over 12,000 employers support Scottish Apprenticeships, which are work-based learning opportunities or jobs with industry-recognised qualifications. Designed with employers for employers, Scottish Apprenticeships are demand-led and responsive to regional skills needs.
GE's achievements led to the company being named as a finalist at this year's Scottish Apprenticeship Awards, in the Large Employer of the Year category, sponsored by Anderson Strathern.