Thriving in a new career thanks to bursary support
Tanya embraces her new job as a Computing Science teacher thanks to the support from the Teaching Bursary scheme
Tanya Howden, from South Queensferry, admits she is loving her new teaching career.
Having completed her probation in June, Tanya will soon begin a full-time teaching position at Boroughmuir High School in Edinburgh.
"What I enjoy the most has been getting to see the kids learn and grow as people over the school year.
"When they come back after a lesson and talk about what they've just learned, or how excited they are is such a great feeling. Their enthusiasm is contagious!"
Career changer Tanya benefitted from the Teaching Bursary scheme and graduated from the University of Strathclyde last year.
Opened to new applicants in June 2023 by Skills Development Scotland (SDS), the £20,000 bursary is available for career changers in the new academic year whilst studying for a PGDE in Maths, Computing Science, Technological Education, Physics, Chemistry, Home Economics and Gaelic.
She added: "Knowing that you don't have to worry about an income during your teacher training year takes such a weight off your mind.
"I can't imagine having another job whilst during the degree – it's very full on."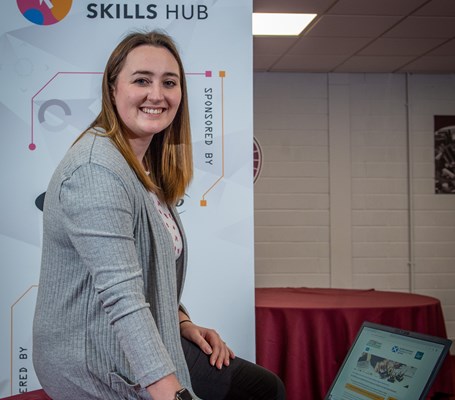 Prior to embarking on her teaching career, Tanya led the digital skills programme for young people at Heart of Midlothian Football Club.
"Having the background of supporting young people at Hearts and from my previous roles has given me an important link to a world outside school.
"This is invaluable when trying to make the subject relatable for some young people and considering how you can bring the curriculum to life.
"They leave with a little bit of buzz about computing science and I'm hoping that means that they're going to start to see the world slightly differently and, hopefully, I've managed to persuade some to take computing further once they leave school."
Tanya spent the first year of her training at university and at school placements, before undertaking her probation year.
"The thought of two years' training and going back to university can seem quite daunting, but the time has flown by. The support offered by the university staff and in the schools has been incredible."
For Tanya, there's more to the job than teaching the subject – and she's keen to encourage more people to consider switching career to teaching.
"What's surprised me the most is the sense of community you get from interacting with your classes and being part of the school ecosystem.
"Without doubt there are times I am out of my comfort zone – like doing the Cha Cha Slide in front of all the S1 at their Halloween disco!"
Find out more
Visit the dedicated website to find out more about the scheme.