Career changer Ros goes from treading boards to felling them
From onstage drama to the peace of Scotland's woodlands, Scottish Forestry's Ros Wardman is urging others to make the leap to climate-focussed careers.
The Forest Industries Adviser switched sectors 18 years ago, moving from working as a Stage Manager in UK theatres to studying forestry to enable a career change.
She said: "As a Stage Manager you deliver what a director and a designer visualise. In forestry, I'm helping deliver an outcome to benefit the forest industry and the wider community in Scotland.
"I worked in theatre for 8 years and as much as I enjoyed what I did, I got to the point where I was spending all my time in a black box, missing being outside.
"I've always loved trees, it's as simple as that. And when I started to think 'is there a job in that' and did some looking around, it all just snowballed from there."
Ros took an A Level in environmental science while still working, then took the leap with a foundation degree which meant a year of study, a year of work, then a further year in college – offering her the chance to earn while she was learning.
A stand out job role for Ros has been as a Woodland Officer dealing with woodland creation, forestry grant scheme applications and felling permissions
She said: "In stage management you deal with strong personalities with their distinct visions and views of how something should work.
"Saying to a director 'no you can't smash that bottle over that actor's head' isn't really any different to saying to a landowner 'no you can't plant those trees there, let's find a different solution'.
"Those team working and communication skills are still in use every day, and of course working to deadlines."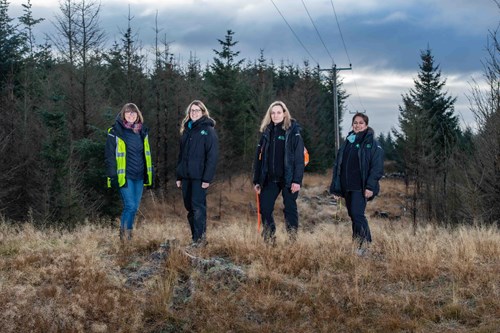 Ros is now on a mission to bring more women into the forestry industry.
"On the whole the forestry sector is becoming more diversified, which is great to see and be part of.  The misconception that it's a male dominated environment is receding, our woodlands and associated industries are for all of us.
"There are a wide variety of roles, and a lot of what we do is social, speaking to communities and partners, and helping people manage woodland. The mechanisation and kit available now is also making the physical roles more accessible.
"If you're looking for a change, check out the website or get in touch for a chat, don't be afraid to take that leap. I did, and it's been the best move I've ever made."
Elaine Ellis, SDS Sector Manager, said: "We know from the recent Green Jobs in Scotland report that women are markedly under-represented in green jobs across the country, and work is ongoing across the skills system to bring gender balance across industry.
"Forestry is a vital part of Scotland's drive to net zero, and there are opportunities across the sector and we know that those job numbers will continue to grow. Routes into forestry include apprenticeships, direct entry level jobs as well as going via the college and university sector."
The Green Jobs in Scotland report also found that the majority of green jobs are held by young people.
Ros thinks the prospects forestry offers is a great way for young people to take action on climate change.
She said: "A lot of young people are dealing with eco anxiety and one option to combat that is to work in an industry that's mitigating the climate emergency.
"Forestry was a green industry before that was even a thing, and we're constantly working to decarbonise processes and the supply chain wherever we can.
"You could be working on tree health, bio security, the dynamics of timber buying, forest economics or out every day as a woodland manager – not to mention office-based roles such as HR and marketing.
"I'm from an arts background and look at me now. It's an absolute joy of an industry to be a part of."