PACE support helps Phil launch new career
Phil Fowler had been working for student accommodation company Unite Students for 12 years when he was made redundant.
The 41-year-old father of three who lives in Dunfermline, realised that redundancy was inevitable as the company suffered during the Covid-19 pandemic.
Phil said: "The company went through a restructure and I realised then that my job was under threat. I was told in March 2022 that I was being made redundant. That's when I started looking for support. I knew I wanted to move on and change career, and the redundancy gave me that opportunity. I was interested in the tech side of my job and felt that this was something I wanted to pursue a career in."
Partnership Action for Continuing Employment (PACE) is the Scottish Government's initiative for dealing with redundancy situations. Skills Development Scotland (SDS) leads on the delivery of PACE support in conjunction with a number of partners including Department for Work and Pensions (DWP), Citizens Advice and learning providers.
Phil said: I searched online for different opportunities and found redundancy support available from Skills Development Scotland as part of PACE.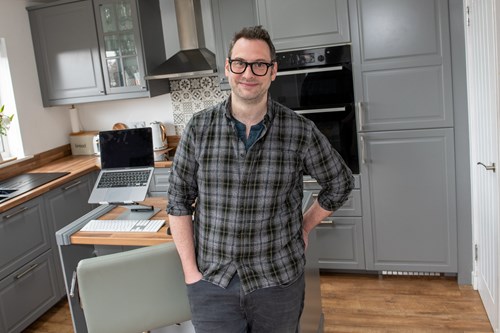 Phil received support from PACE Adviser Anupama Rao.
"I spoke to Anupama about my situation and that I was keen to move into the digital sector. She spoke to me about making informed choices, told me about websites that have information about training, including My World of Work, and spoke about funding options. She suggested that I look at job adverts in that sector to see what was in demand and what employers were looking for, which would give me an idea of what training options I should consider."
Phil researched relevant jobs and courses in the digital sector, while continuing to speak to Anupama about his progress.
He continued: "Anupama also helped me with my CV, giving me lots of advice on the things to include and what employers would be looking for. Once you're made redundant you start to lose confidence in yourself and your skills. It was great to have that contact with Anupama to keep me on track, as it was a really worrying and challenging time."
After a few weeks of applying for jobs, the responses and job interviews started to come in. Phil said: "All the work I had done on my CV had paid off. It got to a point where I was turning down opportunities as I had quite a few coming in."
Phil was successful in securing a Technical Support Analyst role with Currencycloud, a global payments platform, which is owned by Visa, that enables businesses to move money across borders quickly and easily. He says: "I've been doing the job for six months and I love it.
"The help I had definitely helped me achieve what I wanted following redundancy. I would 100% recommend the support from SDS and PACE. I'd say to anyone who may be dealing with redundancy to speak to SDS. They can help you with planning what your next steps will be, whether that's planning a career change or looking for another role in the same industry. They will talk you through the steps you need to take and the options available to you."
Find out more about PACE redundancy support at redundancyscotland.co.uk