Murray's apprenticeship journey with West Lothian College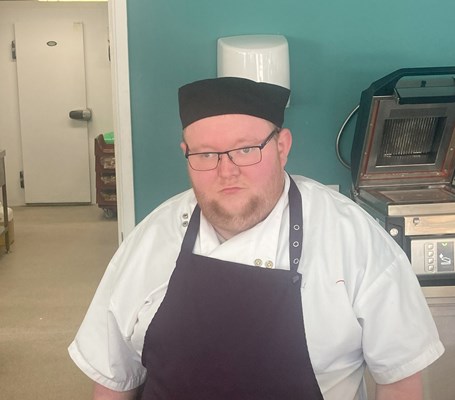 West Lothian College offer Assisted Programmes courses to support students with additional support needs to reach their goals.
This helps young people prepare for volunteering, employment or further study and the more informal college setting can provide a valuable step from school to greater independence.
Murray Robertson first joined Assisted Programmes as a 16-year-old in 2011-12, on a School Transitions course, which provided a taster of what the college offered.
The next year he successfully completed a full-time New Directions Group course, returning to repeat the course the following year before enrolling on the part-time Café Services course, learning the duties and skills required.
Over three years he became an asset to the group and a source of information and support, which he readily offered to new students, also completing his bronze and silver volunteering award, returning after the pandemic to complete his gold award.
Apprenticeship
It was then that he was offered the opportunity to do an apprenticeship in Retail at SCQF 5 incorporating an SVQ 2 in Retail Skills.
Murray said: "I started college when I came to a school link and then I started full-time and part-time courses I have enjoyed being at college, meeting new people and learning new things.
"When I stopped my part-time course I was asked if I could come and volunteer. I have being doing this and getting awards for it.
"I have enjoyed being at college as the staff are friendly and helpful I have also made new friends."
Adjustments were made to Murray's assessment planning and methods, including breaking the plans down into more manageable chunks and using more professional discussion during observation.
West Lothian College also have a 'support for learning' colleague working with Murray to assist in scribing his work and helping him understand the requirements of the assessment plan and SVQ.
Murray still volunteers at Café Services on the days he's not working towards his SVQ, an example of his commitment and enthusiasm.
Lecturer Ken Kinsey said: "I have watched Murray grow into a fine young man that is naturally helpful and supportive to his peers and staff.
"He is liked by many people around the college and if appropriate, I would employ him in a heartbeat.
"I hope he is around as long as I am at West Lothian College as I can continually to enjoy his company during his morning coffees before starting work."
Team player
Lecturer Alex Sykakis said: "Murray has been a joy to work with. As a student he was always there, he was a good listener and a team player.
"He would come on Thursday and usually help with making the soup and also support and teach new students different cuts, cooking methods and generally being very supportive to them.
"On Fridays he would come in the morning and without asking he would set the restaurant so the new students would have more time cooking.
"He also was very attentive to the customers and he would always chat to them explaining the menu and asking if they had a good experience."
Care assistant Tracy Kinsey added: "Murray has been a pleasure to work with. The support and guidance that he has giving to other students has been invaluable.
"The fact that Murray started as a student doing a school link has been inspirational to the students he works with, showing where hard work and determination can get you."