08 September 2022
New Gaelic Language Plan has been published by Skills Development Scotland
A new Gaelic Language Plan has been published by Skills Development Scotland (SDS) showing how the organisation will promote the language and increase its use and learning. 
The Gaelic Language Plan for 2022-2025 is the third edition of the plan, building on SDS's experience of implementing previous plans and containing more ambitious activities for SDS in the future. 
The plan sets out a formal structure for our support of the Gaelic language, with new initiatives and clear targets, reflecting a strong commitment throughout SDS to see Gaelic thrive.
It continues to demonstrate our organisational commitment to: 
 Increase the use of Gaelic 

 Increase the learning of Gaelic 

 Promote a positive image of Gaelic. 
Gaelic plays a unique role in Scottish identity and culture, and it has long been recognised that it makes a positive and measurable contribution to our communities, labour market, businesses and the economy.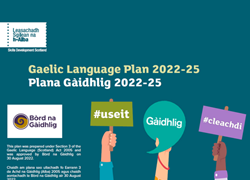 SDS is focused on achieving greater collaboration across the learning and skills landscape and will continue to work closely with Scottish Government and agency partners to promote the recognition of Gaelic as a fundamental part of Scottish culture, heritage and the wider economy.
Damien Yeates
SDS Chief Executive
Building on our work to date, SDS will continue to take forward a range of key activities, focused on the needs of individuals, business and the economy, enabling a sustainable future for Gaelic in Scotland. 
SDS is committed to the support and development of the Gaelic language and, as a national public body in Scotland, our role in contributing towards the recognition of Gaelic as an economic and cultural asset for everyone. 
The plan was prepared under Section 3 of the Gaelic Language (Scotland) Act 2005 and was approved by Bòrd na Gàidhlig on 30 August 2022.