Apprenticeship award winner Meg's step up
Current Graduate Apprentice of the Year Meg Scott is on course to become a civil engineer after earning a First-Class Honours degree – and is already passing on her knowledge to a new apprentice.
Meg, 21, graduated from Glasgow Caledonian University in July to mark the completion of her three-year Graduate Apprenticeship job with global infrastructure giant AECOM.
Now in a graduate engineer role, Meg, from Elgin, Moray, said: "I've been given a lot more responsibility to work unsupervised on projects since graduating and I'll be progressing to an engineer position in October.
"I'm continuing my work on active travel, on projects nationwide. We have a new apprentice in our team who has come straight from school and I'm going to be mentoring him.
"It will be interesting to see how it starts all over again. You forget how long it takes at the start to get used to systems like drawing software."
Meg's graduation came four months after her triumph at the Scottish Apprenticeship Awards, where she was recognised for the quality of her work and contribution to meeting Scotland's net zero targets through her work on active travel schemes with AECOM.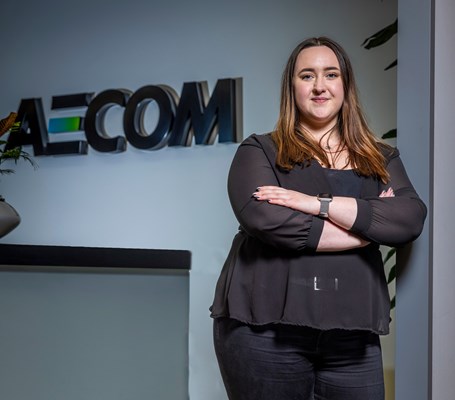 Since joining the business in 2019 she has worked on the Streets team, which develops walking, wheeling and cycling infrastructure from conceptual to technical design stages.
Meg - who recently joined the Scottish Apprenticeship Advisory Board (SAAB) Apprentice Engagement Group - is currently working on active travel infrastructure projects in Inverness and Edinburgh.
She was previously involved in developing the 'Spaces for People' pop-up cycle lanes launched during the pandemic in Glasgow, where she lives.
Hailing the advantages of doing a Graduate Apprenticeship, the Cub Scout Section Leader added: "I started with AECOM at the same time as a graduate engineer who had been to university.
"We've been given the same responsibilities and had the same experience by the end of our courses, but I didn't have those extra four years of studying. Having come out the other end, however, I've got much further forward.
"Doing an apprenticeship also meant I was independent much earlier. I moved out of home and it gave me a chance to start my life at a young age. The apprenticeship also built up my confidence.
"Now that I've finished the Graduate Apprenticeship I've almost got too much free time on my hands – it's strange. I've thrown myself back into the Scouts so I'm doing even more than before.
"My graduation day was great – it was a really nice day with my family, and I celebrated with the girls on my course.
"We were the first year of the apprenticeship and we supported each other. Without each other none of us would have graduated. It's been an amazing experience.
"My goal now is to stay in sustainable travel. Infrastructure for electric vehicles (EVs) is the next big thing – it will be a massive shift and very interesting to see."
AECOM has around 30 people in the streets team in Scotland. Meg was the first apprentice in that team, although there have been others in the business.
Graduate Apprenticeships are a way to get qualified up to Master's degree level while in paid employment. Designed by education and employers, Graduate Apprenticeships are offered in key sectors that need highly skilled employees.