13 October 2022
Starting early to dismantle gender stereotypes
Blog: Jane Brumpton, Chief Executive at Early Years Scotland talks about her role as a member of the Scottish Apprenticeship Advisory Board's Gender Commission
As a previous primary and nursery teacher, and Head Teacher across my career, who is steeped in early years pedagogy and practice, I appreciate I am somewhat biased when I say that I believe working in the early years sector is the most rewarding career path.
We know from a plethora of research that a child's earliest years are the foundation for their future development, providing strong scaffolding for lifelong learning. Research also emphasises the importance of early childhood education as essential building blocks of a child's future success and positive outcomes.
It is therefore critical, when supporting and addressing challenges and inequalities around gender stereotypes and promoting gender diversity, that this starts as early as possible within a young child's life - and is discussed in developmentally appropriate ways.
That's why I was proud to be part of the Scottish Apprenticeship Advisory Board's (SAAB) Gender Commission. Alongside a range of leaders from business and education, we were set the task of considering practical advice and approaches to help employers, educators and parents/carers tackle barriers which potentially prevent gender diversity in the workforce.
We explored a range of ways to support gender diversity within the workforce specifically through the lens of apprenticeships and work-based learning in Scotland.
There were some recurring themes throughout our research which we explored in detail by focusing our thinking into four distinct workstreams: the role of business; key influencers; value in work; and young people and intersectionality.
My role within the Commission, as an early-years representative from Early Years Scotland, was to consider the role of 'key influencers' in the lives of youngest children in particular. Alongside Jean Carwood-Edwards, previous Early Years Scotland CEO, and now Early Years Consultant, we gathered support from across the landscape, from early years settings, employers, and academia to inspection body representatives - asking key questions around challenges and opportunities surrounding gender diversity in early years.
The Early Years Scotland White Paper details key discussions and evidence gathered through a range of focus groups. The paper and its message emphasise the importance of the following:
appropriate gender balances of males and females within early years roles
young children cannot be what they cannot see
young children playing freely with a wide range of non-gendered play opportunities
appropriate use of language around gender in education settings and at home
the need to tackle gender stereotypes within the media and advertising
the need for ongoing, high-quality professional learning to support gender diversity in early years
how we can encourage more females into STEM areas of employment
partnership working between early years, school settings and home to support awareness of gender stereotypes
The feedback from these consultations and the wider work of the Commission overall, helped to shape and agree 12 important recommendations.
The recommendations are based on strong evidence, designed by its employer-led members including experts from education, across policy areas and selected key influencers. Although the focus on the importance of addressing these recommendations as early as possible in children's lives features throughout all 12, there were some specific recommendations that focused on the early years sector itself.
In particular Recommendation 11: Increase Diversity in the Early Learning and Childcare Sector exemplifies the importance of focusing on breaking down gendered barriers from the youngest age.
In my role as CEO of Early Years Scotland, I will ensure that we promote the report and its recommendations as far as possible. With it, my goal is to help babies and young children play and learn in inclusive settings and schools, which will support their learning journey and help them to eventually choose the job they want to do - without gender barriers limiting and shaping that decision later in life.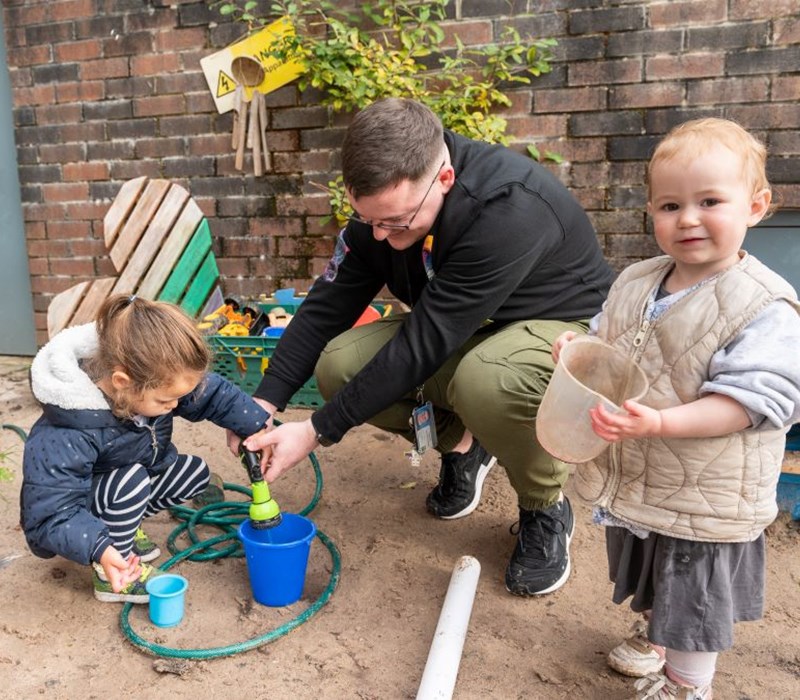 I have worked in the early years sector for most of my career and it's where my passion lies – supporting our youngest learners to have the best start in life. We need to fully support Scotland's children, early years professionals, parents and carers to make the early years a time of rich play and learning experiences so that children can achieve the best outcomes.
Jane Brumpton
CEO Early Years Scotland and member of the SAAB Gender Commission