09 May 2022
Apprentices fashion sustainable future
A sustainable fashion firm is investing in the future by taking on more than 20 apprentices to support its net zero ambitions.
It is the largest single intake for ACS (Advanced Clothing Solutions) since it began offering Modern Apprenticeships, with the support of Skills Development Scotland (SDS).
Cabinet Secretary for Finance and the Economy, Kate Forbes MSP, visited ACS at its Lanarkshire facility to meet the new apprentices, who work in textile care and warehousing. Five of the twenty-two new apprentices came via local employability programmes. Six are registered disabled.
Ms Forbes said: "Scotland has extraordinary economic potential through our natural resources, talent, creativity, academic institutions and business base. ACS is helping to create new, quality green jobs and apprenticeships that will support our drive to net zero and I am grateful for the opportunity to visit and hear more about their innovation and future plans.
"We are pushing forward with an ambitious 10 year National Strategy for Economic Transformation, which will build on the Covid Recovery Strategy to create a more prosperous, greener, fairer wellbeing economy."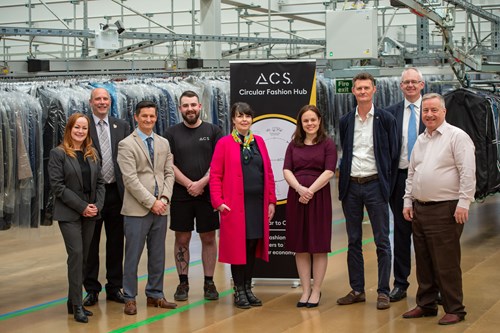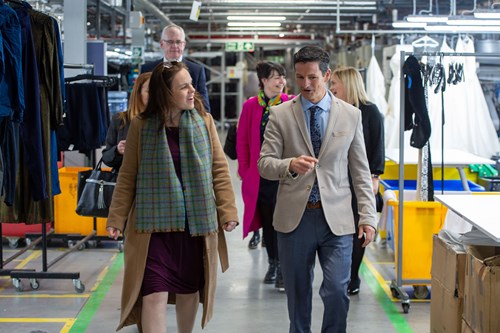 As a company with planet and people at the top of its agenda, ACS teaches apprentices new environmentally friendly methods from green sector partners which can be shared and implemented with other organisations.
It aims to transform the fashion industry from a traditional linear take, make and dispose model towards a circular fashion model that extends the life of existing textiles and diverts clothing from landfill by helping brands and retailers introduce a rental or resale model alongside existing ecommerce. 
Anthony Burns, ACS Chief Operating Officer said: "ACS apprenticeships provide people with the tools to increase their capacity for critical thinking and analysis all while considering the environment at every opportunity. 
"This is especially relevant for us as we are passionate about bringing sustainability to the forefront of the fashion industry. Work-based learning has also been vital in helping us develop as a business while also allowing us to nurture the talent of the future.
"All ACS apprentices will be at the heart of these innovations and will be instrumental in enabling us to achieve our Net Zero vision and if we continue at this pace, we expect to recruit more Modern Apprentices later in the year."
ACS is a leading example of a thriving sustainable business model that offers quality, inclusive green jobs and proves that firms don't need to make a choice between profit and planet.
Graduate Apprenticeships up to a degree level and Foundation Apprenticeships for school pupils are also part of the team at ACS, in partnership with Glasgow Caledonian University and New College Lanarkshire.
Diane Greenlees, Director of Critical Skills & Occupations at SDS, said: "Modern Apprenticeship numbers are already bouncing back towards pre-pandemic levels, showing how much jobs with work-based learning are valued by young people and employers.
"We are exploring how we can integrate sustainability and green skills into apprenticeships to ensure the system stays flexible and relevant as we make the move to net zero."
Apprentices have already supported ACS to get to zero waste with processes including recycling coat hangers and introducing a wormery to the canteen to cut food waste. The company has also introduced a system of harvesting laundry water and removing polyurethane sleeves from garments prior to shipping to prevent them ending in landfill.
It's set up a 'Bio-Bubble' around its warehouse in partnership with local special educational needs schools and New College Lanarkshire to re-wild the ACS site, with its beehives already producing honey.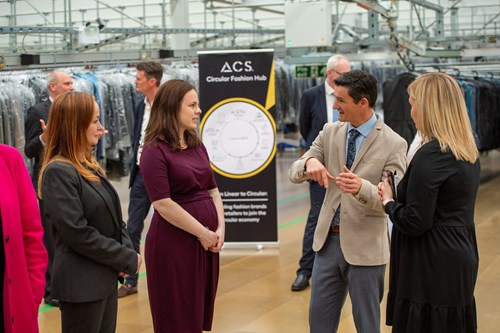 It also continues to partner with Developing the Young Workforce (DYW) after successfully hosting eight sustainable fashion conferences during COP26 to engage and educate young people on the impacts of fast fashion on the environment.
Professor Dave Reay is a climate scientist at the University of Edinburgh and leads the steering group for Scotland's Climate Emergency Skills Action Plan.
He said: "The move to net zero has the potential to create tens of thousands of well paid, highly skilled jobs over the next 20 years. At its heart the action plan is all about making sure we seize those opportunities for everyone learning and working here in Scotland, and apprenticeships are a key part of that.
"ACS is a leading example of a thriving sustainable business model that offers quality, inclusive green jobs and proves that firms don't need to make a choice between profit and planet."
The Green Jobs Workforce Academy is here to help you take a green approach to your career, your skills and job search.