Graduate Apprenticeship lets Ross reach his career goals faster
Ross Pringle chose his Graduate Apprenticeship with Leonardo over offers to study at university alone – and would make the same choice again, any time. 
Making the right choice for you 
Ross is now in the third year of his Graduate Apprenticeship (GA) in Engineering: Design and Manufacture, which he started right after school. Finishing high school, Ross had offers for both university and apprenticeships. In the end, the decision was easy for him. 
Ross said: "I've always wanted to do mechanical engineering. To find out that, through a Graduate Apprenticeship, I could get a degree while working in the job from the start was a real game-changer for me. Next year, I will finish with the same qualification but won't have to take part in the fight to get that first step on the ladder following graduation."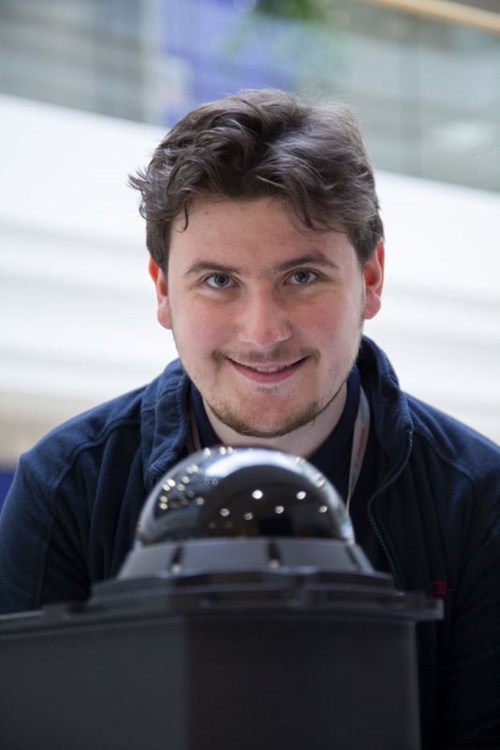 Inspiring others 
Ross would encourage anyone considering an apprenticeship to go for it. He joined the Scottish Apprenticeship Advisory Board's Apprentice Engagement Group (SAAB AEG), where he now leads on the group's ambassadorial work, to share the benefits of apprenticeships and help others to make informed choices. 
Ross enjoys speaking at events and takes real confidence from opportunities such as engaging with Ministers and getting to influence the future of work-based learning. He said: "I enjoy working with other apprentices to lead on Scottish Apprenticeship Week activity which allows me to give back and pass on my experience."  
Leading on real impact 
Throughout his apprenticeship, Ross has taken opportunities to lead on work and projects outside of his day job. Hands-on practical learning and getting to see the real-life impact of his work is what motivates him. 
Last year, he led Leonardo's team of apprentices in the Fuel Change challenge, designing an aircraft decommissioning facility for sustainable recycling of parts and materials. 
You need experience to register with a professional body. As an apprentice, you get fast-tracked, which is just another huge benefit of the programme.
Ross Pringle
Graduate Apprentice in Engineering at Leonardo
Ross, who in his free time volunteers with SARDA Southern Scotland and shares his home with two mountain rescue dogs, is most proud to work on the development and manufacture of search and rescue radars for aircraft – helping to save lives every day.  
Ross said: "I get a lot more from hands on learning and it's amazing to see the direct impact of some of the work I do. I have now specialised in mechanical engineering and can directly apply my academic learning to my job and vice versa – the two go hand in hand."
Getting there faster 
To Ross, an apprenticeship is ideal for those who want a fast start to a rewarding career. He has ambitious plans after he finishes his Graduate Apprenticeship next year and wants to become a chartered engineer with Leonardo within five years – something that he would not be able to realise without his apprenticeship.  
Ross said: "You need experience to register with a professional body. As an apprentice, you get fast-tracked, which is just another huge benefit of the programme." 
Visit apprenticeships.scot to find out more about apprenticeships