Forth Valley College backs movement putting Next Generation at the heart of tackling climate change
Innovative ideas delivered with passion and executed in real-life situations are the ultimate legacy for Forth Valley College's partnership with Fuel Change – a social enterprise which partners with educators and employers to help apprentices solve real-life 'challenges' set by businesses.  
With Scotland searching for the 'spark of change' to ignite and unify the country's fight against climate change, Fuel Change's mission is to empower young people as a 'force for change' rather than powerless by-standers bearing the brunt of the mistakes of previous generations. 
The Fuel Change Challenge also provided an opportunity to invest in the country's apprentices and utilise their skills and expertise.  
As one of Scotland's leading providers of Modern Apprenticeships, Forth Valley College was the natural choice to help launch this exciting and inspiring movement.    
Thirty eight teams of apprentices from employers across Scotland took part in the first challenge, with ideas now being developed to support net zero ambitions for 2045.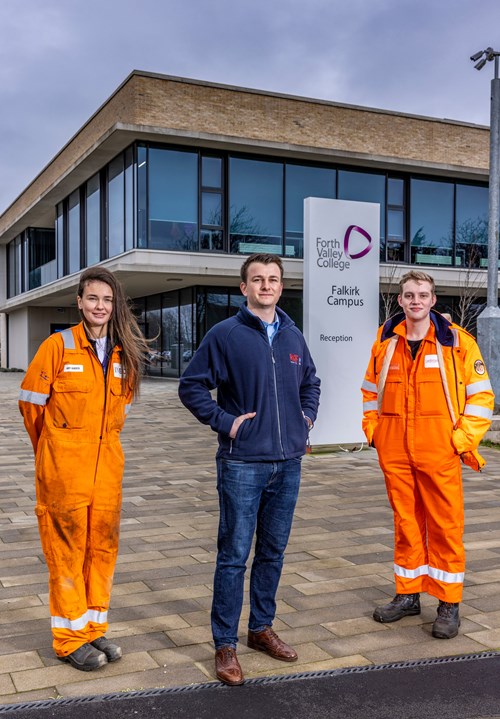 Forth Valley College's Director of Strategic Partnerships & Regional Economy and Chief Operating Officer for Fuel Change, Jennifer Tempany said: "Fuel Change is fundamentally about sparking hope through placing our faith in the next generation. The ambition is huge and, by design, our approach is grounded in creating practical solutions. We've interacted with thousands of young people in Scotland, either through setting young apprentices the task of developing innovative low carbon solutions or working with educators and their students at all levels of education. 
"Fuel Change's values of empowerment and innovation are shared by Forth Valley, with the initiative embedded in the College's investment in learning provision. The best way to judge Fuel Change is to listen to the stories of the young participants. 
"I have worked with apprentices for a considerable part of my career and know first-hand that given opportunity there is no limit to what they can do. 
"Despite this I am still blown away by the hidden talent of the next gen that we have unleashed by our engagement in Fuel Change. I believe that by backing them we can support them to create a sustainable future in which they can thrive." 
Over 12,000 employers support Scottish Apprenticeships, which are work-based learning opportunities or jobs with industry-recognised qualifications. Designed with employers for employers, Scottish Apprenticeships are demand-led and responsive to regional skills needs. 
Forth Valley College is one of Scotland's largest trainers of Modern Apprentices, with more than 1000 Modern Apprenticeships supported in 2021/22, alongside 450 Foundation and 12 Graduate Apprenticeship opportunities.  
Forth Valley College Principal Dr Ken Thomson OBE said: "Fuel Change has brought a focus on carbon reduction across all curriculum areas of the College.  
"It has driven a positivity to achieve carbon reduction in every area of the college and an excitement that Forth Valley might be at the centre of a project that has UK and even global potential to deliver carbon reduction solutions.  When I went to COP26 to hear about some of the projects, I was really impressed.  There were brilliant ideas, perfectly executed, and the passion of the apprentices really made it a special moment." 
 The winner of the Innovation in Learning Provision category will be revealed at the Scottish Apprenticeship Awards, which is organised by Skills Development Scotland and set to take place during Scottish Apprenticeship Week from 7-11 March. Find out more about the award finalists and the event here