Catching up with Jordan Fairlamb, former Scotland's Apprentice of the Year
Jordan Fairlamb won the title of Scotland's Apprentice of the Year in 2019. Since then, he has continued to embrace work-based learning and moved on from a Modern to a Graduate Apprenticeship. 
Starting out 
Jordan is now in the third year of his Graduate Apprenticeship (GA) in Business Management with McAlpine Plumbing Products. 
He started his apprenticeship journey as a supply chain management Modern Apprentice (MA) with a previous employer in 2018. After learning about apprenticeships from his school Careers Adviser, Jordan knew that this was the right path for him - and he hasn't looked back since. 
Jordan said: "I chose an apprenticeship to get a recognised qualification at the same time as gaining valuable work experience. This has turned out to be the ideal pathway for me – I couldn't have made a better choice."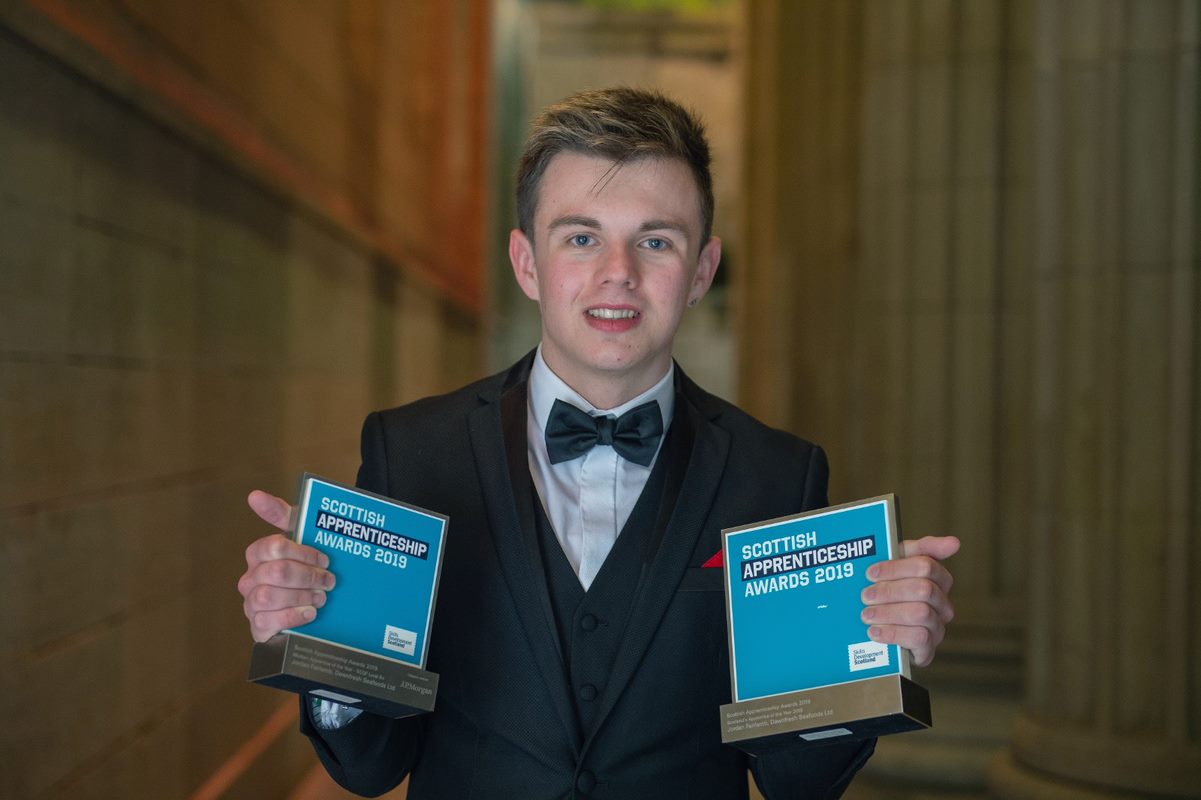 Winning big 
Impressed with his hard work and enthusiasm, Jordan was nominated for Modern Apprentice of the Year SCQF Level 6+ by his colleagues, for the Scottish Apprenticeship Awards in 2019.  
After winning the category, Jordan also went on to scoop the top prize – Apprentice of the Year – on the same night. Speaking of the experience almost three years later, he said: "Being named Scotland's Apprentice of the Year has given me confidence in my abilities and allowed me to progress my career. 
"The Scottish Apprenticeship Awards are so important to recognise the hard work and dedication of apprentices, employers and providers across the country." 
Moving on 
The Award helped Jordan gain more responsibility and progress his career, moving on to a Graduate Apprenticeship on the recommendation of his employer. It was also a big selling point when Jordan moved on to a new employer – McAlpine Plumbing Products – last year. He now works towards his degree on day release while fulfilling a full-time role as Materials Planner. 
Jordan said: "I'm now in a specialist role studying towards the same degree as full-time students while also gaining valuable work experience and pay.  
"I would say that once I get my degree next year, I'll be a step above other graduates with the experience and skills that I have." 
Spreading the word 
Jordan wants to ensure that other young people have the same opportunities for a fulfilling career. He enjoys working with the SAAB Apprentice Engagement Group (AEG) to promote apprenticeships to young people and employers, and to help influence the strategic direction with key decision makers.  
Jordan said: "It's so interesting to get to see through the AEG just how much goes on behind the scenes and the important role we play. It has shown me that we don't just need to reach school pupils, but also employers and decision makers who are key to creating opportunities.  
"Apprenticeships need to match the demand, so all young people have equal access to rewarding career opportunities." 
Visit apprenticeships.scot to find out more about apprenticeships