Apprentices fashioning a new net zero future for ACS
Apprentices have already helped Advanced Clothing Solutions (ACS) improve its carbon footprint and their efforts will be pivotal to the company achieving net zero by 2025.  
In partnership with Glasgow Caledonian University, ACS runs an apprenticeship programme which currently boasts three Graduate Apprentices but it is envisaged that there will be 40 more apprenticeship opportunities from 2022 to support company growth.  
A number of innovations have seen ACS named as the winner of the Supporting Net Zero Apprentice Employer of the Year category sponsored by South of Scotland Enterprise at this year's Scottish Apprenticeship Awards. These include the design of a new onboarding process that enables fashion brands to join the circular economy.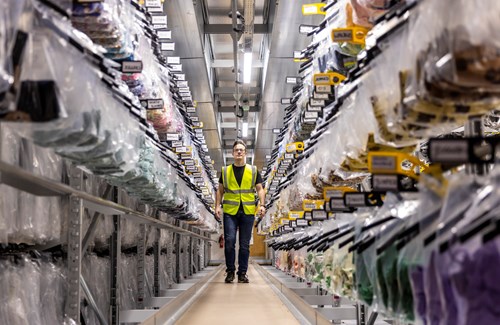 ACS Head of Sustainability Michael Cusack said: "ACS apprenticeships enable students to increase their capacity for critical thinking and analysis. This is especially relevant in an organisation that is passionate about the delivery of an effective, circular fashion economy.  
"Measuring waste and what do with it are vital elements of being greener and achieving net zero faster. Our laundry water is now being harvested, so it doesn't end up in the sea and we have also, at our own cost, removed polyurethane sleeves from garments prior to being shipped, so these do not end up in landfill, reducing waste. 
"An example of the impact of this increased capacity is from the start of ACS's journey in 2018 when 100% of our waste went to landfill, now Zero Waste ends up in landfill with 66% reused and 24% recycled and only 10% incinerated, and our apprentices have been able to use the skills learned at Glasgow Caledonian University to achieve these goals." 
As a company which has both planet and people at the top of its agenda, ACS provides apprentices with the opportunity to learn new environmentally friendly methods from green sector partners which can be shared and implemented with other organisations.  
Michael said: "ACS's key focus is on education for new and existing partners, who may not be as aware of sustainable processes. Working with partners such as Zero Waste Scotland, apprentices have learned new ways of being environmentally friendly and then translate that to their partners. 
"We have done so many positive things with the help of apprentices recently. Hangers which used to be incinerated are now sent to a company to be recycled and reused. We have a wormery for food waste from the canteen and you have to pre-order now which also reduces waste. We are going to grow our own food on site, we already have beehives to make our own honey. It all adds up to that circular business.  
"We have a priority of planet, followed closely by people, with profit clearly important but not dominating the strategic agenda and associated goals. The apprenticeship is an ideal vehicle for the business to update and refocus their people's capabilities, so they can contribute to the Net Zero goal." 
Over 12,000 employers support Scottish Apprenticeships, which are work-based learning opportunities or jobs with industry-recognised qualifications. Designed with employers for employers, Scottish Apprenticeships are demand-led and responsive to regional skills needs. 
Michael said: "To tackle climate change and achieve net zero by 2025 will require more innovation in ACS and how we operate. All ACS apprentices will be at the heart of these innovations and will be critical to enabling the organisation to achieve its Net Zero vision." 
ACS Chief Operating Officer Anthony Burns said: "ACS has benefited greatly from 'the development of real capability relevant to our business' by hiring apprentices. I believe that the MA programme has created motivated staff at ACS who consistently deliver productivity improvements and a better quality of service to our customers. The programme has helped us respond to the skill shortages caused by Brexit." 
Scottish Apprenticeship Awards 2022
Read the full list of Scottish Apprenticeship Awards winners here.