Sharon is positive and passionate about diversity in apprenticeships
Sharon Blyfield of Coca-Cola Europacific Partners (CCEP) GB is passionate about supporting apprentices while promoting equality and diversity.
As Head of Early Years at the world's largest independent Coca-Cola bottler, Sharon, who has been with the business for 27 years, has shaped and evolved its apprenticeship programme.
In Scotland, where the business has a base in East Kilbride, apprentices make up five per cent of the CCEP's workforce. There are currently eight apprentices employed in Scotland and, over her time working in her role, Sharon has supported over 150 apprentices across CCEP's sites to date.
Positive and passionate
Sharon said: "A good apprentice instructor needs to be positive, passionate and forward-thinking and believe in apprenticeships as a credible alternative pathway for school leavers.
"Companies should be total dedication to developing talent – and this should be applied at all levels, not just early careers.
"An apprentice instructor should also be committed to increasing diversity, whether that be widening the net for applicants from under-represented backgrounds, or growing the proportion of women in areas like logistics and engineering."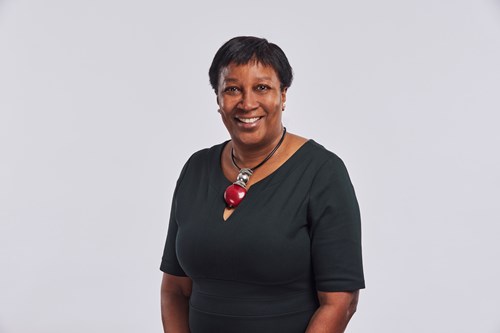 Creating a diverse workforce
Sharon has also played a key role in shaping CCEP's recruitment process to prioritise skills and aptitude, as opposed to formal qualifications. As a result of her drive for diversity in the workplace, 40 per cent of CCEP's most recent apprentice and graduate intake are female, and 45 per cent are of Black or Asian heritage.
CCEP employs around 3,600 people in Great Britain and offers apprenticeships across a variety of sectors, including engineering, business administration, logistics, legal and field sales.
Working closely with Skills Development Scotland (SDS), CCEP has piloted Foundation Apprenticeships.
Sharon said: "Foundation Apprenticeships mean we can introduce school pupils to the business to work on industry projects and develop their technical skills."
Sharon added: "We've developed our Career Builder programme, so those at any point in their career can upskill, whether that's through trying a different area like electrical engineering or levelling up their qualifications with a degree-level apprenticeship, for example.
Working closely with providers
"We've also worked with training providers to create group workshops and regular feedback sessions for both apprentices and their managers, so that we can constantly improve our apprenticeship programmes and ensure we are giving each new recruit the most rewarding career."
Apprentices deliver many benefits for CCEP, such as bringing new talent to the business.
Sharon said: "We invest in people and we want to nurture the talent within our business so our employees can develop their skills. That's why we're so passionate about apprenticeships: we want to harness the natural talent young people have from early on in their career, and support them to grow and develop.
"And apprenticeships also deliver a great return on investment for the business. At our site in East Kilbride,100 per cent of our apprentices have progressed into full-time roles with us – and after stay with us for many years. So, while the programme is about giving back and making sure we do our bit, it also makes good business sense."
Boosting business performance
Sharon was a finalist in the Apprentice Instructor category at this year's Scottish Apprenticeship Awards and is committed to developing CCEP's workforce.
Seamus Kerrigan, Operations Director based at CCEP's site in East Kilbride said: "Thanks to Sharon, our apprenticeship programme is a huge success in terms of its contribution to business performance and the development of apprentice recruits from day one of training all the way up to and beyond receiving their qualification. Some 95% of participants agreed their apprenticeship has had a positive impact on their career and development."
Scottish Apprenticeship Awards
The winner of the Apprentice Instructor category was revealed at the Scottish Apprenticeship Awards, organised by Skills Development Scotland. For the full list of winners visit apprenticeships.scot.