Apprenticeship paved the way for Peyvand's new life and career
A mum-of-two who came to Glasgow from Iran as a refugee has realised her dream of working with children through an apprenticeship.
Peyvand Alipoor, 26, completed her Modern Apprenticeship Level 7 in Social Services (Children and Young People) in October 2021.
Overcoming challenges
To do her apprenticeship Peyvand had to overcome a number of challenges, such as English not being her first language, cultural factors and having two young children to care for. Her hard work and determination paid off and she was a finalist in the Scottish Apprenticeship Awards.
Peyvand, who settled in Glasgow in 2015, said: "I found out about Modern Apprenticeships while studying a course for non-English speakers at college.
"My apprenticeship has been a game-changer for me. I had a family at a young age and never had the opportunity before to do something else besides being a wife and mum. I wanted to do the apprenticeship. I love kids, had volunteered in a nursery and was determined to get a career working with children. But it was hard in my situation as my husband was not sure about me working."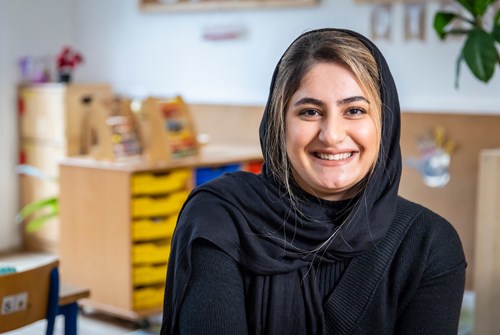 Modern Apprenticeships are jobs open to anyone aged 16 and over who want to work, learn and earn. Apprentices spend most of their time learning in the workplace while being supported by a local college or specialist training provider to gain an industry recognised qualification.
The Modern Apprenticeship in Social Services Children and Young People is fundamentally about supporting and caring for children and young people, while always keeping them safe.
Life-changing
Peyvand added: "When I compare myself now to before I did my Modern Apprenticeship, there's a really a big difference. I saw myself as just a mum, but now I'm a professional.
"The apprenticeship changed everything for me - the way I live, how I interact with my kids, my personal life and confidence levels. It all came together through the apprenticeship.
"As well as learning every single day during my apprenticeship, it helped me be financially independent. Seeing that money come into my bank account was really joyful."
Having completed her Modern Apprenticeship, Peyvand is hoping to do further study to get a job in a school. Her achievements led her to become a finalist in the Modern Apprentice of the Year SCQG Level 6+ category sponsored by the Young Person's Guarantee.
She said: "It's a big achievement for me to be a finalist in the Scottish Apprenticeship Awards. It makes me proud when I look at my journey."
Thirst for knowledge
Mhairi Wallace of Somerset Nursery in Glasgow, where Peyvand worked during her Modern Apprenticeship, said: "Peyvand was a very keen learner during her apprenticeship from the day she walked in the door. She wanted as much knowledge as possible which is a good thing."
Somerset Nursery has 12 Modern Apprentices. Mhairi added: "I would recommend all business take on Modern Apprentices.
"There are lots of benefits of apprenticeships for our business. Most apprentices who work with us are offered jobs at the end. By that point they have a qualification, they have been employed, they know the workplace and they know the children and their families.
"Modern Apprentices can develop their careers with us. Many apprentices have ended up becoming senior practitioners and deputy managers, so there are real opportunities for them to grow.
"Modern Apprentices create a talent pipeline for your sector and business. They give young people an authentic experience of work at an earlier stage of their learning."
Natural with children 
Joanne Docherty of Peyvand's learning provider L and G Learning said: "The biggest challenge for Peyvand in trying to do her Modern Apprenticeship was overcoming the cultural barrier. But we held her hand through that and she was determined to do her apprenticeship.
"We also helped Peyvand with her English to do her apprenticeship, such as supporting her with filling in forms and language in her assessments.
"Peyvand's development during her Modern Apprenticeship has been fantastic. From the minute she set foot in the nursery she was a natural with the children and was well-respected. Peyvand was also able to offer extra care and support to parents and children who had English as a second language.
"Being in the workplace, she improved her communication skills, and her research skills are phenomenal. What she has achieved through her apprenticeship is massive for her and her family."
Scottish Apprenticeship Awards
The winner of the Modern Apprentice Level 6+ category sponsored by the Young Person's Guarantee will be revealed at the Scottish Apprenticeship Awards, which is organised by Skills Development Scotland and set to take place virtually during Scottish Apprenticeship Week from 7-11 March. Find out more about the award finalists and the event by visiting apprenticeships.scot.