Apprentice Nathan puts energy into career in oil and gas
Nathan Anderson went the extra mile during his Modern Apprenticeship so he could build a pipeline to follow in his dad's footsteps working offshore in the oil and gas industry.
The industry has been part of Nathan's life from an early age as his dad had been a diver for many years. Nathan was keen to go offshore and, after doing his research and talking to peers, he decided a Modern Apprenticeship in Upstream Oil and Gas Production would be the perfect start to his career.
Career progression
Nathan said: "When I looked into apprenticeships and saw the training available and the job possibilities, I thought it was well worth a go. I would definitely recommend apprenticeships. They are a great way to earn and learn."
Nathan, originally from Invergordon and now living in Inverness, completed his four year Modern Apprenticeship Level 7 in June 2021. He has continued to work full-time with Wood, a global leader in offering consultancy, project and operational services across the energy industry, which supported him throughout his apprenticeship.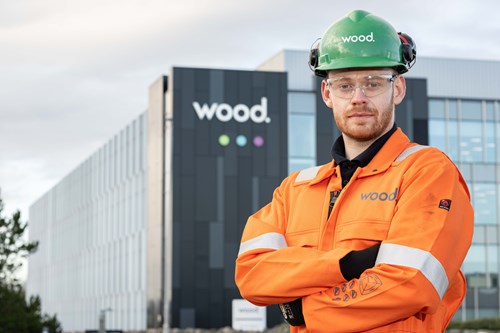 Tenacious and resilient
Nathan said: "During my Modern Apprenticeship I grew up a lot. I moved away from home, out of my comfort zone, and developed my communication and people skills. I learned theoretical skills at college as part of my apprenticeship that I put into practice offshore. The training and support I received from the college and Wood throughout my apprenticeship was first-class."
In 2020, Nathan was placed on furlough from his offshore position as a result of reduced resourcing levels in line with Covid-19 safety measures. His training stopped during this period but his drive led him to enrol on Petroleum Open Learning modules to keep his mind active and continue learning.
With offshore no longer a viable option because of the pandemic, Nathan, with the support of Wood, agreed to relocate over 100 miles from his home to St Fergus Gas Terminal to take up an onshore site placement. In that role he had to learn certain skills from scratch.
Nathan showed his resilience and maturity by continuing to gather evidence for his portfolio. According to his learning provider Forth Valley College and employer, his confidence has soared and he's now a well-rounded technician as a result of his varied learning experiences.
Modern Apprenticeships are jobs open to anyone aged 16 and over who want to work, learn and earn. Apprentices spend most of their time learning in the workplace while being supported by a local college or specialist training provider to gain an industry recognised qualification.
Dedicated model apprentice
Both Wood and Forth Valley College say the 24 year old went above and beyond what he was required to do. His dedication has helped him reach the finals of this year's Scottish Apprenticeship Awards.
David Quinney, business partner at Forth Valley College, said: "Nathan was a model apprentice, wanting to get on and was very enthusiastic and proactive. He always volunteered to help at open evenings on apprenticeships or to go out to schools to talk to students about apprenticeships."
Such was Nathan's drive to learn that he asked to do a night class at college so he could gain an HNC in Electrical Engineering, as well as the HNC in Measurement Control that was part of his Modern Apprenticeship.
Taking ownership
Wood has 40,000 employees worldwide and currently has about 30 apprentices in Scotland in various engineering disciplines. Jillian Fordyce, Senior People Development Advisor said: "We've been offering apprenticeships in the offshore industry for at least 20 years. It helps ensure we have a pipeline of skilled people for the future. Apprentices enhance our workforce by bringing in new ideas and innovative ways of doing things."
She added: "Nathan has always done really well during his Modern Apprenticeship, from his technical skills to his college work. He took ownership of things and got on with the job."
Nathan is a finalist in the Scottish Apprenticeship Awards, in the Modern Apprentice of the Year SCQF Level 6+ category sponsored by the Young Person's Guarantee. Nathan said: "It's nice to be recognised for my work during my Modern Apprenticeship and it's a real confidence booster."
Nathan is also proud that his work colleagues have recently nominated him as a Health and Safety Executive (HSE) safety representative. He said: "It's quite a big achievement to be a rep when I'm just out of my Modern Apprenticeship."
Scottish Apprenticeship Awards
The winner of the Modern Apprentice Level 6+ category sponsored by the Young Person's Guarantee will be revealed at the Scottish Apprenticeship Awards, which is organised by Skills Development Scotland and set to take place virtually during Scottish Apprenticeship Week from 7-11 March. Find out more about the award finalists and the event by visiting apprenticeships.scot.