20 December 2022
Apprenticeship Awards winner Samir's prize project
Former Scottish Apprentice of the Year Samir Khan-Young has designed a flagship national award celebrating innovative manufacturers who champion fair work and inclusivity.
Samir, 27 - also crowned Graduate Apprentice of the Year in 2021 - was one of a team of six graduates and apprentices tasked with developing a concept for the First Minister's Award for Manufacturing Leadership.
His idea, based on a silhouette of Scotland and featuring a mix of recycled and new materials, was taken forward to be manufactured by the National Manufacturing Institute Scotland (NMIS) in a project also involving another Apprentice of the Year, Fraser Wallace from GE Aviation. 
In recognition of his achievement, the former Engineering: Design and Manufacture Graduate Apprentice was invited to a reception at The First Minister's Edinburgh residence Bute House, where Nicola Sturgeon presented the inaugural Scottish Government award to Jerba Campervans.
Passion for engineering
Samir, a manufacturing engineer with aerospace and defence firm Thales in his home city of Glasgow, said: "It was a very lovely event and a bit of a 'pinch-me' moment. It's not very often you get to sit next to the FM and have a general chit-chat and a coffee.
"Out of all the concepts it was a great sense of pride for mine to be selected and taken forward and developed with the team. All the other ideas were great - I genuinely think any one of them could have been taken forward.
"Working with Robert Lynch and Jayne Nicholl from NMIS, and Fraser Wallace from GE Aviation, was good to see how the original concept developed over a few meetings and evolved with the functional aspect of a light.
"To see the work that NMIS did from taking the design from the sketch attached to the end product is a credit to their team."
Samir said the skills he learned on both his apprenticeships play a part in his latest success.
He said: "The Graduate Apprenticeship has allowed me to balance technical knowledge and skills developed through my Modern Apprenticeship with advanced academic and theoretical knowledge.
"The third and fourth year projects also gave me the confidence to demonstrate to Thales my capability and show that I could implement knowledge straight away.
"The Graduate Apprenticeship has definitely accelerated my career by allowing me opportunities to engage with senior stakeholders.
"I also need to say thanks to Thales and every individual who has supported me through my career and Graduate Apprenticeship - without them I wouldn't have had the same success." 
To incorporate recycled materials and showcase advanced manufacturing methods was also a bit special as this is something I'm passionate about and have always focused on as a manufacturing engineer.
Samir Khan-Young,
Manufacturing engineer at Thales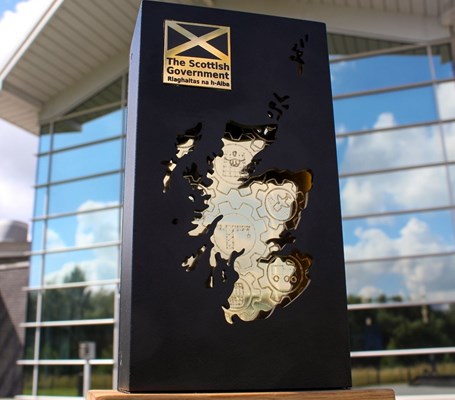 And he said of the project: "As for what it meant to me personally, it's just a sense of pride and achievement that in a short space of time we could turn around a great end product which I hope everyone liked.
"To incorporate recycled materials and showcase advanced manufacturing methods was also a bit special as this is something I'm passionate about and have always focused on as a manufacturing engineer."
Husband and wife Simon and Cath Poole founded Jerba Campervans in North Berwick, East Lothian, and specialise in converting and customising VW Transporters. Competition judges praised how the firm's employee-owned status fosters a participative and inclusive work culture.
Samir developed the concept for the award and handed it over to the NMIS project team led by Robert, who created a computer aided design version as the next step in the manufacturing process.
The striking trophy features a polished brass plate made using scrap metal from Thales, etched with gears to represent Scotland's industries. Its oak base was formed using part of a whisky barrel from a distillery where Samir's mum once worked, and the trophy also features a 3D printed back plate made using recycled plastic.
Drive to succeed
Samir was approached by NMIS to take part in the project soon after his double victory at the Scottish Apprenticeship Awards in 2021.
It came after he had worked nightshifts for Thales' manufacturing team during the pandemic as they raced to produce PPE for NHS frontline workers. Before doing his Graduate Apprenticeship, Samir did a Modern Apprenticeship at the Govan-based firm.
He was one of the first cohort to take a Graduate Apprenticeship at Strathclyde University in 2017, and graduated last year with a First-class Honours degree.
The former Bannerman High School pupil said of his career journey: "I didn't feel that I was ready to go to university when I left school, so a Modern Apprenticeship was the best option then. I'm glad the Graduate Apprenticeship has enabled me to gain a degree and further my career."
Thales Industrial Architect Stephen Francis said of Samir's awards triumph: "Samir has always had a drive to succeed and we spotted his talent early on in his Modern Apprenticeship. Everybody recognised his technical and social skills - he is a true role model for our other apprentices."
Graduate Apprenticeships are offered in key occupational growth areas and support individuals in developing the technical and person skills they need to progress.