Forestry apprentices Rachel and Victoria cultivate Insta equality push
Female forestry apprentices are tackling the sector's gender gap by sharing images of their work on social media to reach more women.
Rachel Orchard and Victoria Potts offer an insight into their day-to-day tasks working for Forestry and Land Scotland from their base at Durris, Aberdeenshire.
The Timber and Trees Modern Apprentices are shown clearing paths of smoking embers for firefighters tackling a recent forest fire and removing fallen trees in the wake of the devastating Storm Arwen at the end of 2021.
In other photos they winch down huge unstable trees and process wood into biomass fuel using a woodchipper.
The images lay bare the vital importance of forestry work to keep Scotland's landscape accessible through thick and thin, while overturning the common stereotype that the industry is only for men.
Rachel and Victoria, who both won Lantra Scotland ALBAS awards for learner of the year, have also promoted free training in chainsaw use and other green skills in their social media push to make more women aware of the opportunities in their field.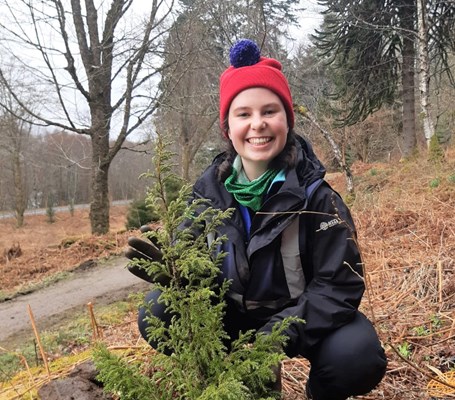 It comes as women increasingly take up training and jobs and training in the profession, challenging the stereotype that forestry is only for men.
Forestry and Land Scotland (FLS) said 11 of its current cohort of 40 apprentices are women, with ten more female workers joining its work-based learning programme in the last three years. 
Rachel, 23, is almost a year into her apprenticeship. She said: "After finishing my Liberal Arts and Sciences bachelor's degree online during the pandemic I realised I didn't want an office job, so I began looking into outdoor industries. 
"I find the work stimulating and take great satisfaction from completing tasks that have a physical impact, such as using a chainsaw to safely fell a tree.
"There is a strong sense of community amongst foresters which is a great place to learn about original forest management practices. This network is key for new, young foresters like me to learn from those with decades of experience.  
"With the future in mind, I hope to play a positive part in addressing the changes forestry faces in the coming decades.
"When I feel I am ready, I'd like to move to a management or planning role. There are a lot of older foresters keen to pass on their knowledge to enthusiastic new entrants, but more could be done to spread the word about the diverse world of forestry. 
"Most importantly, we need to convince people that forestry is not only for big, beardy, 6ft 7in men. Victoria and I are trying to help change this narrative by sharing our work."
Forestry jobs range from tree planting and forest management to harvesting work. Other roles include business analysis and human resources, geographic mapping, finance and procurement.   
Land and Forestry Scotland offers several apprenticeship opportunities including the Trees and Timber Modern Apprenticeship at SCQF Level 5 and 6.
Recent research by Skills Development Scotland shows how diversity in recruitment and employing younger apprentices is linked to better productivity growth for the businesses.
Rachel and Victoria's work can be found on their Instagram page treekind.