Career Review Final Report
Skills and experiences to grow and succeed in a rapidly changing world
Launched in February 2022, Careers By Design report outlined an ambitious redesign of the career ecosystem in Scotland.
Co-designed with hundreds of practitioners, partners and people entitled to services, the ten recommendations contained within Careers By Design outline how career services need to respond to the rapidly changing world around us.
The final report of the Career Review, entitled 'Skills and experiences to grow and succeed in a rapidly changing world', describes how this redesign will be delivered.
This includes detail of:
implementation plans developed by different 'sectors' of the career ecosystem, including education, colleges, universities, Developing the Young Workforce, Skills Development Scotland, youth services and local authority employability.

the Career Development Model which will underpin the delivery of future services, enabling individuals to more easily access experiences that meet their needs.

an outline approach to experiential career learning across different stages of education. designed to give learners the skills, agency and confidence to make decisions that are right for them.

further details of the Career Services Collaborative through which those with an interest, direct or indirect, can work together to deliver the career services of the future.
With the publication of this report, the Career Review has completed the most comprehensive review of Scotland's career system in a generation.
Responsibility for implementation now passes to the organisations that deliver career services, overseen by the new Career Services Collaborative.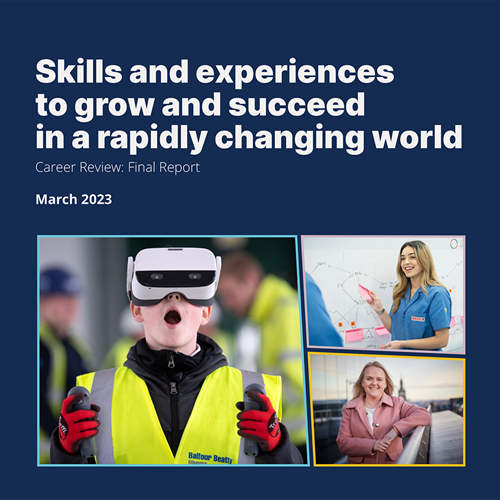 Changemaker Co-design Report
The Changemaker Co-design Report provides further detail on the Career Development model and an outline approach to experiential career learning.
It outlines the approach taken by the Career Review programme team, working with 'changemakers' who experience and deliver services to shape the future.
The changemaking approach builds on the co-design previously undertaken through the review but places an even greater emphasis on students, learners, education and businesses services users and practitioners in driving change.
The report provides full details of the Career Development Model, a key recommendation within the Career Review.
It also outlines an approach to experiential career learning, drawing extensively on recommendations in the Career Review to give learners the tools, agency and confidence to make decisions that are right for them as they progress through education and into work and careers.