The support we offer teachers
Working closely with schools and employers to forge links between the classroom and the world of work. 
My World of Work has a specific partner area that includes resources developed with teachers and practitioners. The resources are for education professionals to use with their pupils to develop their career management skills: 
Activities are designed to meet a range of experiences and outcomes which are set out in Building the Curriculum 4 
The resources support teachers and practitioners to deliver the 'I can' statements defined by the Career Education Standard 
They fit with the recommendations of Developing the Young Workforce 
 Education Team 
Find out more about the support our Education Team provides to teachers, other practitioners, parents and a wider range of partners across Scotland to play their complementary roles in delivering young people's entitlement to a meaningful career education.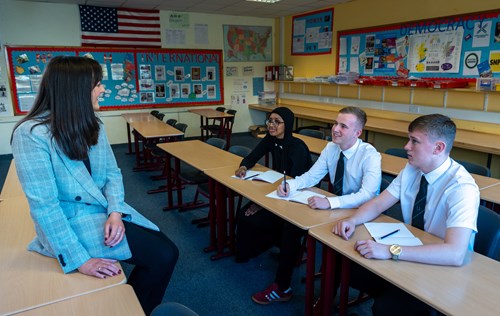 Subject lesson inserts 
The one-page format, developed with teachers and practitioners, is designed to make learning more relevant to the wider world of work. 
Activities are in the form of individual or group exercises, worksheets, class discussion, homework and a careers wall, with the aim of inspiring teachers and practitioners to create their own inserts. 
The inserts: 
Help to show the relevance of lessons for possible future careers 
Use live up-to-date careers intelligence 
Easily introduce careers information to lessons without having to be an expert 
Help young people make connections between classroom learning and the world of work 
Develop young people's career management skills 
Spark informed discussion on careers from an early age in school and at home 
My World of Work Ambassadors 
Ambassadors are school pupils who volunteer to act as champions for My World of Work, helping spread the word of the resources available. 
By volunteering, they also gain valuable experience and skills that are transferable to the world of work. 
Resources for primary school teachers 
Activities have been created with teachers to use throughout the second level of primary school. They support delivery of the Career Education Standard and introduce Career Management Skills. 
The activities also support the use of the online interactive tools for primary pupils. 
What's next?
Return to our school services table for a comprehensive overview of the help on offer. 
Learn more about the career information, advice and guidance (CIAG) services we provide in schools and centres across the country.