Apprentice Engagement Group
The purpose of the Apprentice Engagement Group (AEG) is to promote the value of apprenticeships and to champion the contribution they can make to individuals, employers and the economy in Scotland, with the aim of inspiring career influencers and the next generation of young people and employers to get involved in apprenticeships.  
The Group will work with SAAB employer members to take on an ambassadorial role and be the face of apprenticeships in the Scottish system.  
The AEG is made up of current apprentices, recent past apprentices, and previous Scottish Apprenticeship Awards winners. The members act as ambassadors for apprenticeships who communicate the benefits and promote the expansion of Foundation, Modern and Graduate apprenticeships to individuals, employers, parents and other stakeholders. 
The AEG's roles and responsibilities are to:  
 
be ambassadors for apprenticeships with individuals, career influencers, potential apprentices, employers, parents and other stakeholders, promoting the value and benefits of apprenticeships  
play a consultative role to influence strategic stakeholders, Skills Development Scotland and other developments to support current or future apprentices 
communicate the value of work-based learning
work with other SAAB members and Skills Development Scotland to help develop effective, streamlined and simple approaches to apprentice and key stakeholder engagement
as a sub-group of the SAAB EEG, work with SAAB employer members to harness the power and influence of its membership to drive growth in high-quality apprenticeship numbers  
support work to improve diversity in apprenticeships, promoting apprenticeships as an attractive option to learners, parents and employers.
Apprentice Engagement Group Membership
The AEG is chaired by Ciaran Pugh, Senior Threat Intelligence Analyst at NatWest Group, and Mark Gullan, Asset Planner at Scottish Water.
Mark Gullan, Asset Planner at Scottish Water
Mark Gullan joined Scottish Water in 2015 as a Modern Apprentice in Asset Management. After the successful completion of his apprenticeship and qualifications in Water Operations & Civil Engineering and Construction, Contracting & Operations, he was promoted to Assistant Asset Planner covering the Clyde, Forth Valley and East Ayrshire regions.
Mark is passionate about the benefits of apprenticeships for young people, having himself turned down an unconditional offer to study electrical engineering at university to pursue his apprenticeship. He has recently taken on the Co-Chair role of the AEG and is excited about the opportunities for work-based learning in the economic recovery.
Mark is a former actor and a keen sports enthusiast. He coaches football team Cowie Colts with which he hopes to produce the next Scotland superstar.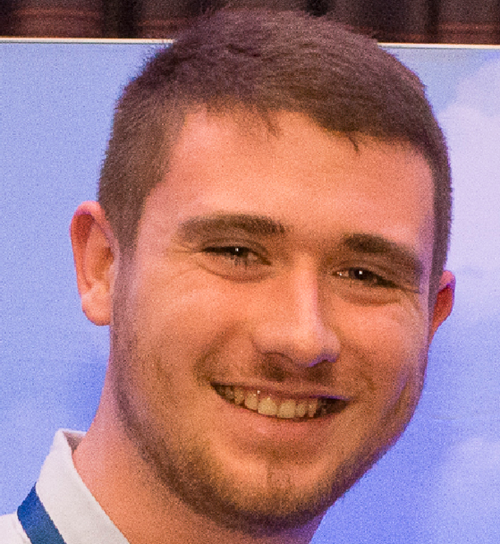 | | | |
| --- | --- | --- |
| Name | Role | Organisation |
| Mark Gullan (Co-chair) | Assistant Asset Planner | Scottish Water |
| David Scott | Graduate Apprentice - Software Developer | Aviva |
| Johnny Monteith | Deployment and Validation Graduate Apprentice | Balfour Beatty |
| Rhys Howe | Digital Admin Assistant | Glasgow City Council |
| Josh Millan | Business and Administration Apprentice | SQA |
| Jude Riley | Stakeholder Engagement Apprentice | Skills Development Scotland |
| Meg Scot | Graduate Engineer | AECOM |
| Megan Harper | Technology Graduate Apprentice | JP Morgan Chase |
| Patrycja Wegrzyn | Technology Graduate Apprentice | JP Morgan Chase |
| Ross Pringle | Design Engineering Graduate Apprentice | Leonardo |
| Sonja Jillich | Technology Graduate Apprentice | JP Morgan Chase |
| Anna Crichton | Project Management Apprentice | SP Energy Networks |
| Jennifer Kolonko | Senior Technical Operator | Coca Cola Europacific Partners |
| Kieran Anderson | Trainee Construction Manager | FES Group |
| Holly Kelly | Technical Apprentice in Career Development | Skills Development Scotland |
| Caitlin Mooney | Business Admin Modern Apprentice | Skills Development Scotland |
| Iona Mackay-Strachan | Project Management Apprentice | BAE Systems |
| Jess Coomer | Business Operations Associate | Microsoft |
Agency leads
Graeme Hendry, Senior Partnership & Delivery Manager, Skills Development Scotland (Observer)
Fiona Burns, Assistant Director: Access and Student Experience, Scottish Funding Council (Observer)
Colin Moore, Policy Executive, Scottish Government (Observer)
29 August 2023
31 October 2023