Foundation Apprenticeships
Foundation Apprenticeships are a work-based learning opportunity for senior-phase secondary school pupils.
Lasting one or two years, pupils begin their Foundation Apprenticeship in S5 or S6. Young people spend time out of school at college or with a local employer, and complete the Foundation Apprenticeship alongside their other subjects like National 5s and Highers.
Completion leads to a qualification at the same level of learning as a Higher and can lead to progression on to a job, such as a Modern or Graduate Apprenticeship.
Foundation Apprenticeships are recognised as entry qualifications by all Scottish colleges and universities.
Why have they been developed?
Unemployment rates in Scotland are significantly higher for young people compared with adults. To change this, we need to support pupils to build the skills they'll need to be successful when they leave school.
We developed Foundation Apprenticeships to help young people gain valuable, real-world work experience and access work-based learning while they're still at school.
Closing the gap between the classroom and the workplace
By giving young people earlier exposure to the world of work, we're helping them develop the skills, experience and knowledge they'll need when they leave school.
For young people, it's the chance to get a head start on their careers by gaining an industry-recognised qualification, work on real projects and broaden their career options when they leave school.
And for employers, it's the chance to attract highly motivated and committed young people who are willing to learn, identify young people who are right for your business and ensure your organisation has people with the skills you need.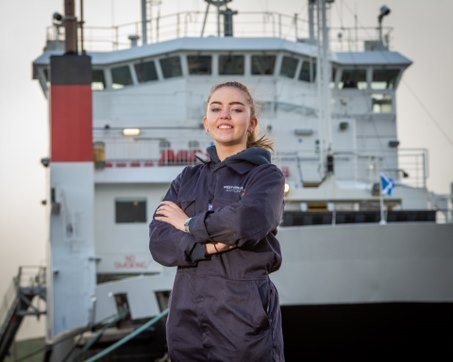 Foundation Apprenticeships give us a solid talent pipeline a year in advance. We get an idea of peoples' potential a year earlier and, without a doubt, it helps us find the right people.
Stephen McNab, Apprentice Leader at GE Caledonian
The UK is facing unprecedented economic challenges….So there has never been a more important time to get our skills system right. Scotland is leading the way within the UK on tackling many of these challenges and Foundation Apprenticeships is an excellent example of this. In our publication 'Towards a Twenty-First Century Education System', Foundation Apprenticeships are recognised as beacons of hope in providing young people with the education they need.
Olly Newton, Director of Policy and Research, The Edge Foundation
Learning in the workplace
Foundation Apprenticeships are currently available in 12 subjects including civil engineering, scientific technologies, software development, accountancy, food and drink technologies and financial services. 
They are linked to growth sectors of the Scottish economy, so young people are getting industry experience which will help them kick-start a successful career in their chosen field.
Foundation Apprenticeships continue to be embedded in the education and skills system, creating increasingly valuable and essential work-based learning pathways for pupils.
Diane Greenlees, SDS Director of Critical Skills and Occupations
Future ambition
Foundation apprenticeships are a fundamental change to the approach to education in the senior phase and that's why we want more pupils to have access to more subjects.
Skills Development Scotland has met the Scottish Government's target by providing 5000 Foundation Apprenticeship opportunities in 2019.
Working with national and regional partners, SDS has contracted with learning providers with the expectation that up to 5000 young people will take up a Foundation Apprenticeship opportunity in the 2020 academic year – supporting pathways into critical occupations for the Scottish economy.
I was beginning to think that it would be impossible for me to become an Early Years Officer because learning in the classroom didn't really work for me. Putting the theory into practice through the Foundation Apprenticeship was the perfect combination.
Joe Pirrie, Early Learning and Childcare Modern Apprentice
Skills Development Scotland is delivering Foundation Apprenticeships with support from the European Social Fund.