26 September 2023
SkillsScotland comes to Aberdeen, Edinburgh and Glasgow
SDS will join employers, training providers and education at SkillsScotland this November. The national event returns following a successful two dates in Glasgow last year and will return to Aberdeen and Edinburgh for 2023.
With a wide range of Further Education and Higher Education as well as industry exhibitors on hand, the events are suitable for all senior phase pupils who will have the opportunity to explore different career paths, get advice from experts, speak to employers - including Coca-Cola, Scottish Power and Diageo - and find out about the latest job opportunities, including apprenticeships.
SDS careers advisers will be there to support young people on the main information point at the event. Complementing them will be apprentices from different employers, there to give pupils their first-hand experience of work-based learning.
School groups should register ahead of the events. Parents and carers planning to attend with their young person separately can also register ahead of visiting. More information including how to register is available on the SkillsScotland site.
Please note that funded travel bursaries for schools are available through the event organisers, Optimus Education.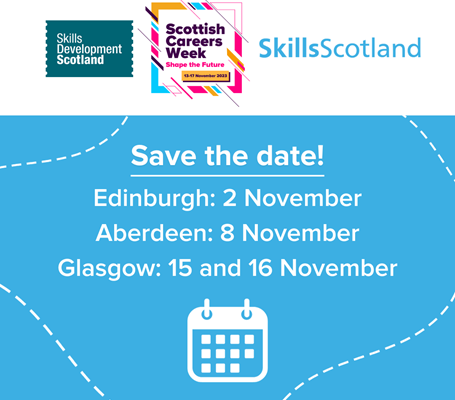 Events taking place
Edinburgh, The Royal Highland Centre, 2 November

Aberdeen, P&J Live, 8 November

Glasgow, The SEC, 15 and 16 November
Scottish Careers Week
SkillsScotland takes place in the lead up to and during Scottish Careers Week.
Delivered by Skills Development Scotland (SDS), the national skills agency, along with a wide range of local and national partners, Scottish Careers Week will feature events and activities to help people of all ages explore, understand and manage their career choices, and the services and resources available to support them.
From organising and attending events, to sharing career resources, and offering inspiration online, there are lots of ways you can get involved.
Visit the Scottish Careers Week hub on My World of Work.