10 November 2023
'Siuthad!' (Go On!) Gaelic careers event returns to Eden Court
Young Gaelic speakers from secondary schools across the Highland Council area joined Skills Development Scotland (SDS) and Highland Council on Thursday 9 November at Eden Court in Inverness for the first face-to-face Siuthad! Gaelic careers event since 2019.
The event was organised by Highland Council and SDS with funding also provided by Highlands and Islands Enterprise (HIE) and Bord na Gàidhlig.
The aim of this Gaelic Medium event was to highlight information on Gaelic careers and showcase Gaelic opportunities in sectors where having these language skills is an advantage. The event was aimed at fluent speakers of Gaelic in S1 to S3 and allowed the pupils to explore further and higher education opportunities where using their Gaelic skills could be key to their success.
The event was opened by Lana Beaton, a Gaelic speaker from Skye, who is well known in the creative industries sector, and spoke about her career journey using Gaelic.
It incorporated a marketplace/exhibitor area made up of a number of exhibitors including Bord na Gàidhlig, the University of Edinburgh, Highlands and Islands Enterprise, Crofting Commission, Historic Environment Scotland, and the University of the Highlands and Islands (UHI).
Pupils participated in interactive workshops and heard from representatives from sectors including the creative industries, education, and digital media about the work they do and the pathways they followed in their respective careers.
Workshops were hosted by the BBC, Feisean nan Gaidheal, and Social Enterprise Academy. Some Gaelic Young Ambassadors also spoke to pupils about their work and how following a Gaelic career path has provided them with a fulfilling future to look forward to.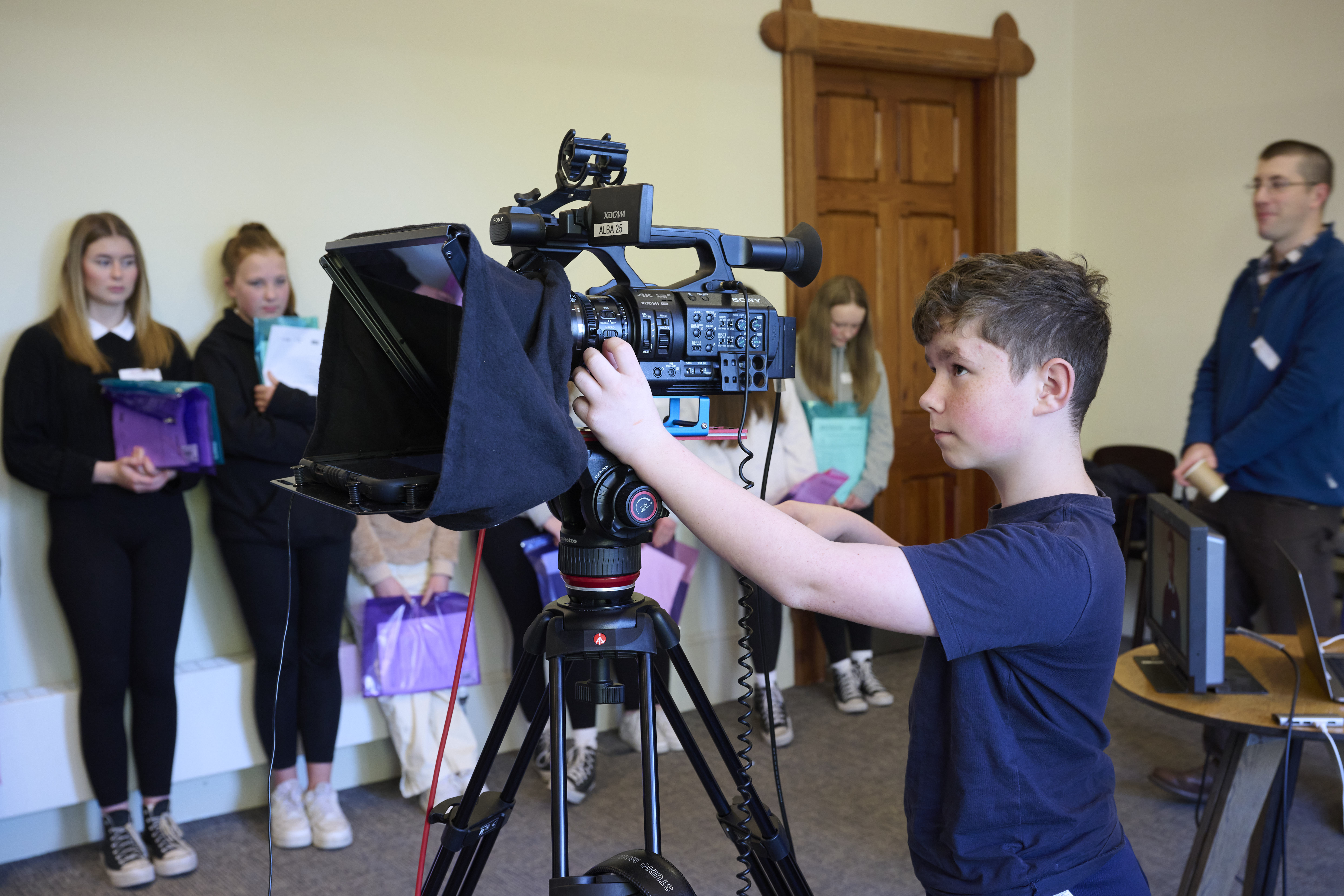 Events like this are important to highlight opportunities that are open to Gaelic Medium pupils. They also show the wide range of vocations that are open to them that they should consider for the future
Derek Mackenzie
Gaelic Development Officer, Skills Development Scotland
Chairperson of Highland Council Gaelic Committee Councillor, Calum Munro, said:
"It's great to see the event return with positive partnership working between the Highland Council and Skills Development Scotland. The opportunity to have a qualification and use Gaelic within the world of work is of a huge advantage. It has a positive influence within career opportunities of which there are examples including local government, the wider public sector including the NHS, the creative industries, new start-ups, the environmental sector, and social media.
"This was a great opportunity for Gaelic-speaking young people from schools across the Highlands to engage with participants and to explore and research further the opportunities for Gaelic-related careers. I know that pupils found the event very informative and engaging".
Gaelic Teacher at Inverness Royal Academy Catriona Macphee, said:
"Our pupils were very much looking forward to attending this event. Gaelic speakers are very much needed in the workforce, and this will be an excellent opportunity for the young people to see where their skills may be needed as well as encouraging them to think about their future career pathways.
"They got a glimpse of a wide variety of professions and options as well as getting a valuable opportunity to ask any questions they may have. It is also a golden opportunity for the pupils to meet young Gaels from other schools and areas. A great event in every way!".