Modern Apprentice Conor builds a bright future in construction
Orkney's Conor Coburn has become a vital employee on his Modern Apprenticeship in Construction - helping to build much needed new-build timber framed affordable housing for the islands whilst supervising other apprentices.
Conor, 22, of Kirkwall, started working for Orkney Builders in 2018 and soon wowed bosses with his high standard of work, natural leadership, focus and passion for learning. 
He quickly cemented the basic skills he had developed with his dad, who also works at Orkney Builders, and who had inspired his work ambitions. 
During his Modern Apprenticeship in Construction (Building) Conor worked on a new build scheme on the islands and played a key role in manufacturing timber kits when sourcing became difficult.
Conor was also handed plans for a work package within a school nursery development contract, allocated an apprentice to work alongside him - and trusted to get on with the job with minimal supervision.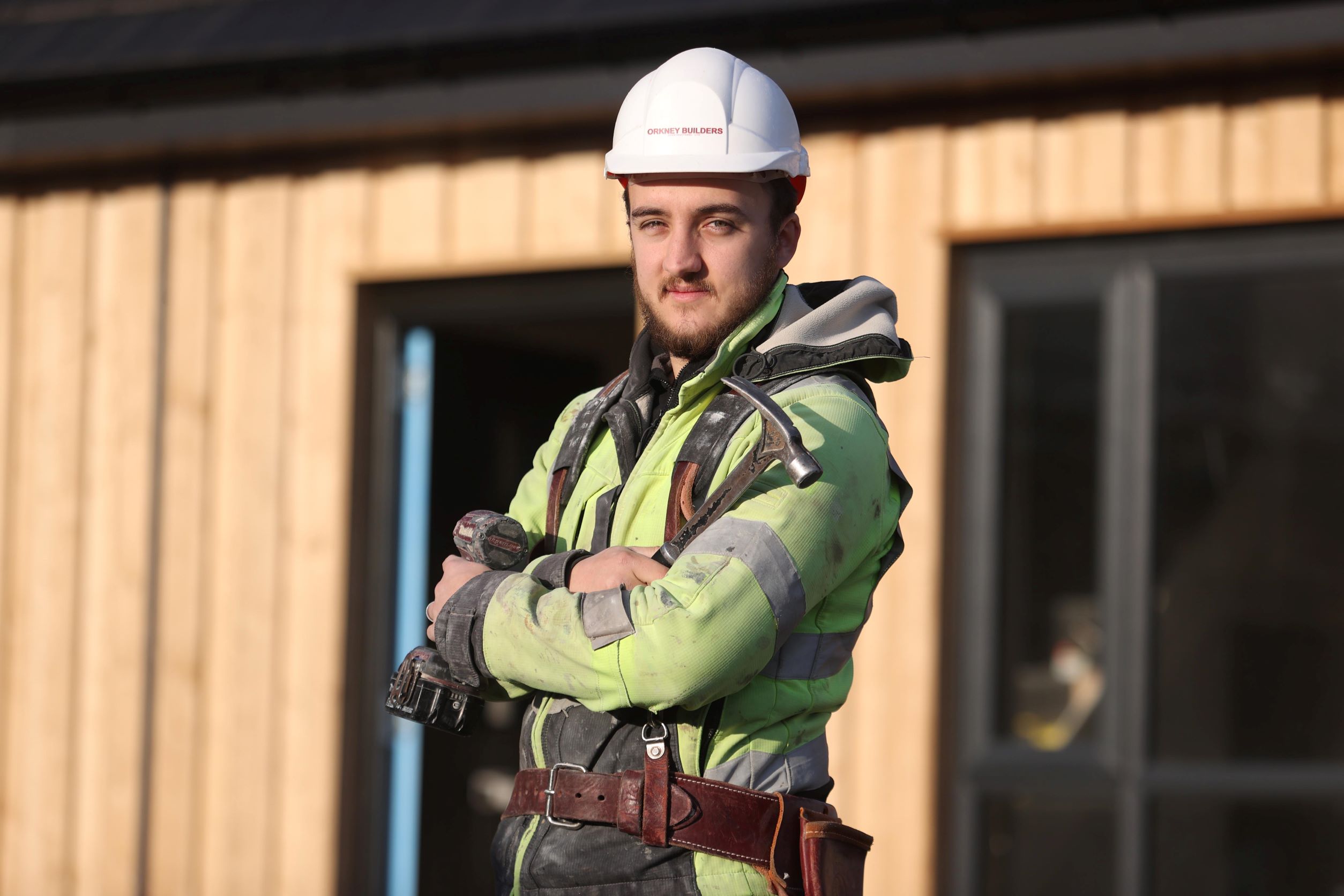 Apprentices are an essential part of our business, helping to maintain the competent and experienced tradespeople that we need
Stephen Kemp
Managing Director, Orkney Builders
The project has since been applauded by both the Client and end-user for the quality of workmanship and finish presented. 
Conor said: "My Dad has always been in construction and I started helping him out with jobs around the house when I was four, so I knew I wanted to go into the sector when I left school. 
"The Modern Apprenticeship improved my confidence and gave me the opportunity to prove what I can do.  
"When you stand back from something and know you've done a great job, it feels good. Being part of every stage when we made timber frame kits was really special." 
When it came to his course at Orkney College UHI, Conor showed just as much dedication, achieving a near 100 per cent pass in his skills test. He completed his portfolio earlier than any other student and his work ethic inspires other apprentices to strive for higher standards. 
Leaders of the future
Orkney Builders (Contractors) Limited Managing Director Stephen Kemp said: "Apprentices are an essential part of our business, helping to maintain the competent and experienced tradespeople that we need. 
"Conor is exceptional - he is very intelligent, works hard and people follow him. He is a natural leader and is steps ahead of many people his own age.  
"Within a few months of starting the apprenticeship, our site managers had identified him as a leader of the future, which is extremely positive, and also rare." 
CITB Apprenticeship Officer Jacqueline Argo said: "Conor has an absolute knack for his trade and is a brilliant all-rounder. 
"He is the epitome of a successful apprentice, a natural leader and his quiet confidence inspires those around him to work to his high standards." 
Modern Apprenticeships are jobs open to anyone aged 16 and over who wants to work, learn and earn. Apprentices spend most of their time learning in the workplace while being supported by a local college or specialist training provider to gain an industry recognised qualification. 
Conor's achievements led to him being a finalist in the Scottish Apprenticeship Awards, in the Modern Apprentice of the Year Level 6 category sponsored by the Scottish Training Federation.