Lewis has grounds for pride in Modern Apprenticeship success
Teenager Lewis Paterson is helping his local community through his Modern Apprenticeship after leaving school without qualifications and overcoming personal challenges.
Lewis, 19, who has dyslexia, has been praised for his commitment and maturity by employer Wheatley Homes and inspires older colleagues to push themselves harder by being a great team player. 
He excelled on his Modern Apprenticeship in Facilities Services despite having to care for his gran and mum before they passed away weeks apart in 2022 – and is determined to honour their memory by building on his success so far.
Lewis, of Thornliebank, Glasgow, said: "Losing Mum and Gran, who I was very close to, was really tough, but I knew I had to keep going and build a life they'd be proud of.  
"I used to have a lot of anxiety around meeting new people but the Modern Apprenticeship has improved my confidence and communication skills.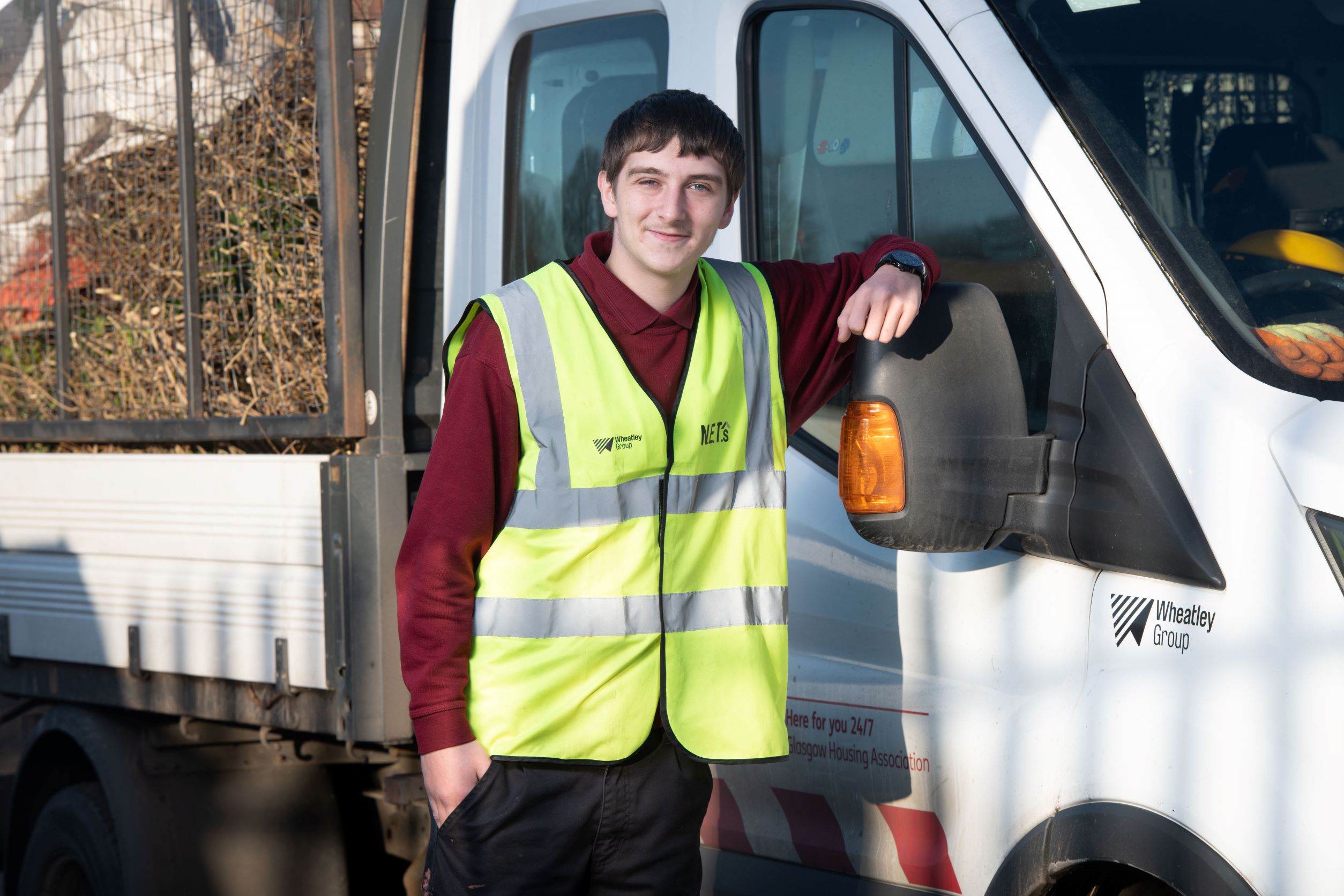 Going to work gave me something to get up for - I get a real buzz from seeing the end results and that motivates me to work harder.
Lewis Paterson
Modern Apprentice at Wheatley Group
"Going to work gave me something to get up for - I get a real buzz from seeing the end results and that motivates me to work harder."  
As a tenant of Wheatley Homes Lewis knows how important it is to his employers' customers that the grounds around their properties – including his own home in Thornliebank - are well maintained.  
He has seized every opportunity to gain new skills like grass cutting and close cleaning - learning how to use new equipment and changing his shift pattern to get experience of different tasks to boost his future prospects.  
Lewis was referred to from youth employability charity Street League and passed a four-week training programme before progressing to a Level 5 Modern Apprenticeship.   
He impressed bosses with his dedication and was never late for a shift despite caring for his gran, who had COPD, and having to take two buses to get to work for 7.30am.  
Modern Apprentice Coordinator at Wheatley Group, Pam O'Brien, said: "Lewis has done exceptionally well under very difficult circumstances.  
"His confidence and self-belief have really improved through his apprenticeship and he has developed key life skills, like structuring his time. We are very proud of him."  
Modern Apprenticeships are jobs open to anyone aged 16 and over who wants to work, learn and earn. Apprentices spend most of their time learning in the workplace while being supported by a local college or specialist training provider to gain an industry recognised qualification.  
Lewis' achievements led to him being a finalist in the Scottish Apprenticeship Awards, in the Modern Apprentice of the Year SCQF Level 5 category sponsored by Scotland's Apprentice Network.