BBC's Goudham broadcasts benefits of Graduate Apprenticeships
Software Engineer Goudham Suresh went into a Graduate Apprenticeship straight from school after a Foundation Apprenticeship with Scottish Enterprise got him in the door.
He completed the two-year apprenticeship alongside his Highers and believes it boosted his application for the IT (Software Engineering) Graduate Apprenticeship, giving him the edge over other candidates. 
Goudham, 20, is a great ambassador for apprenticeships and actively supports new apprentices and mentors new members of his team.  
Last year he hosted a Q&A session with the new intake at the BBC, answering questions in front of 180 apprentices - and offered direct support via Zoom for those too shy to speak on the day. He won the "Most Helpful Student" award at the end of his second year at university.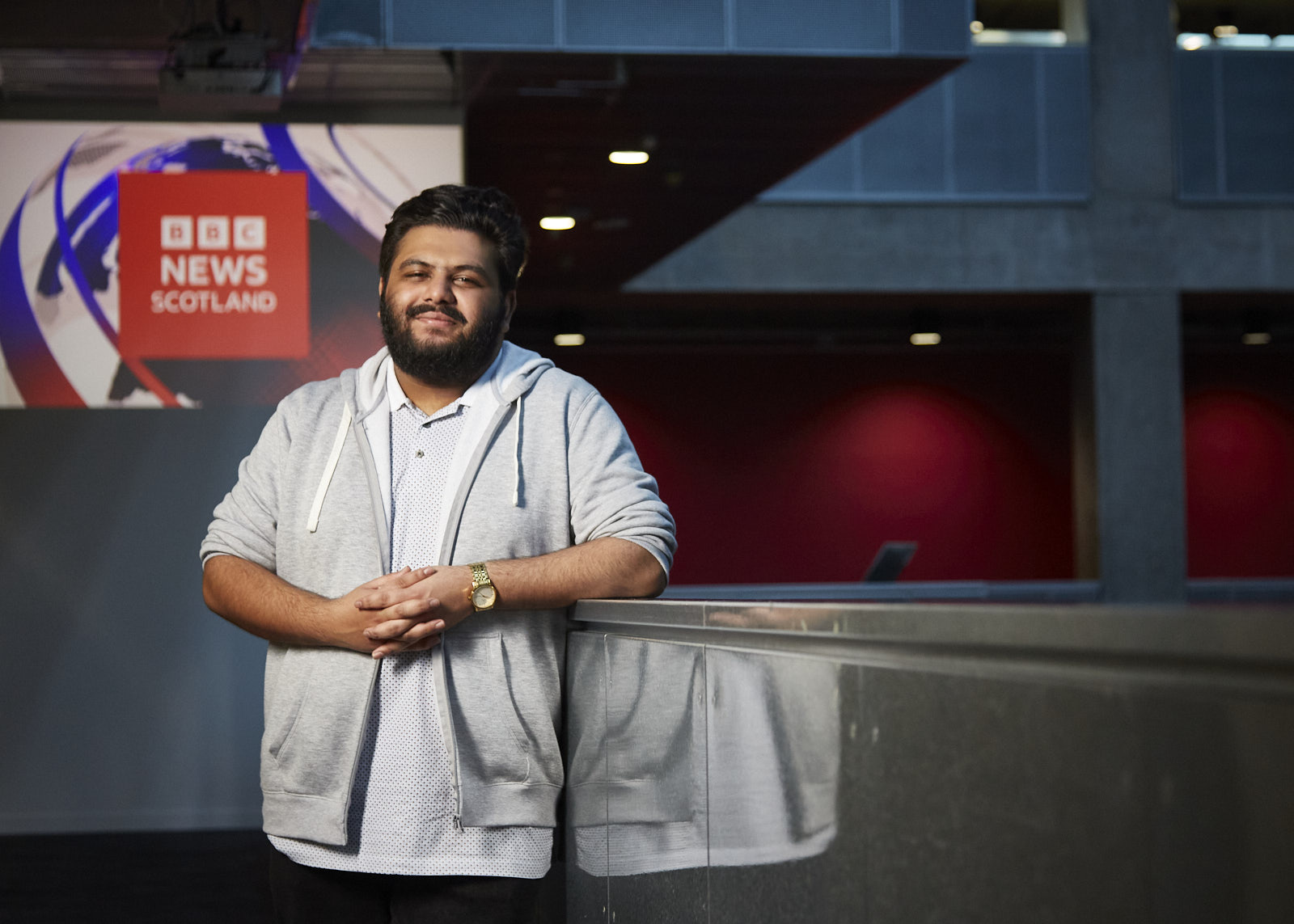 Apprentices bring fresh ideas, diversity and diverse thought and they encourage the teams they work with to learn new technology.
Nat Cadby
BBC Scheme Specialist for Software Apprenticeships
Goudham, of Giffnock, near Glasgow, said: "Graduate Apprenticeships are a win-win because you are working towards a degree and earning a salary at the same time. It's been a steep learning curve, but my manager is very supportive and I can take time away to study if I need to. 
"Earning a salary means I've been able to save money and help pay the bills at home, and it's great not to have any student debt. 
"Doing the Foundation Apprenticeship at school gave me the edge when it came to my interview - it was easy to talk about my experiences." 
Goudham works on the Aggregated Metadata Platform, a core part of BBC Operations, and the Music Rights and Management Project, which makes sure music used by the corporation is accurately reported so that artists are paid royalties. He has also worked on the BBC news webpages, improving their functionality and page loading speeds.  
Graduate Apprenticeships are a way to get qualified up to Masters degree level while in paid employment. Designed by education and employers, Graduate Apprenticeships are offered in key sectors that need highly skilled employees. 
BBC Scheme Specialist for Software Apprenticeship Schemes Nat Cadby said: "Apprentices bring fresh ideas, diversity and diverse thought and they encourage the teams they work with to learn new technology.  
"Goudham has jumped at every opportunity he's been given and he does a huge amount to support other apprentices coming into the business." 
University of Glasgow Graduate Apprenticeship in Software Engineering Programme Director Matthew Barr added: "Goudham is clearly incredibly able, technically and academically, but he also has a maturity to him.  
"He's very committed to his work - people turn to him for help and he's very willing to give it. He's the complete package." 
Goudham's achievements led to him being a finalist in the Scottish Apprenticeship Awards, in the Graduate Apprentice of the Year category sponsored by the Scottish Funding Council.