PACE support helps Mela get a new job
Mela Lynch had been working for Amazon for almost 15 years when she was made redundant. The 52-year-old, originally from the Philippines and now living in Inverkip, was really worried when she heard about the closure of the Amazon site in Gourock.
Mela said: "I was shocked when I heard that we were being made redundant. I'd heard lots of rumours about redundancies at Amazon, but then I received a phone call telling me that the site in Gourock was closing, and then the site manager confirmed it to us all the following day. I was really sad as I'd been with the company for so long. I was really worried, especially because of my age, whether I'd get another job."
She continued: "My husband and I searched online for help the next day and found redundancy support available from Skills Development Scotland as part of PACE."
Partnership Action for Continuing Employment (PACE) is the Scottish Government's initiative for dealing with redundancy situations. Skills Development Scotland (SDS) leads on the delivery of PACE support in conjunction with a number of partners including Department for Work and Pensions (DWP), Citizens Advice and local authorities.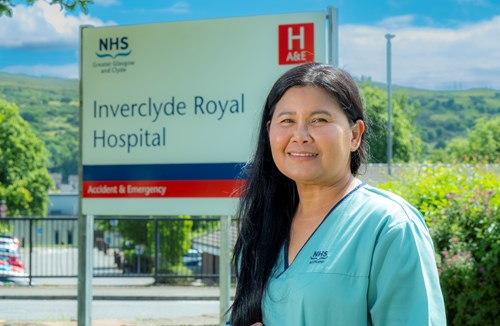 I would definitely tell people to use PACE and SDS to help you through redundancy. It was a great experience for me.
Mela received support from PACE Adviser Stephanie Stinson.
"I met with Stephanie, who gave me lots of advice, including updating my CV and coaching me through next steps such as searching and applying for jobs, and doing mock interviews. She really helped to build my confidence and kept encouraging me throughout the whole process."
The PACE team went into the Amazon site in Gourock to speak to all affected employees, giving them advice on next steps and offering one-to-one support to help people through the redundancy process. 
Mela continued: "Stephanie asked me lots of questions about my experience and skills. Because I had 10 months experience working in a care home, she suggested that the care sector might be a route that I could go down, as well as other options including warehousing. She helped me identify the skills that I could use, and as a result was successful in getting a job!
"I've now started a job as a domestic with the NHS and Inverclyde Hospital in Greenock. I'm really loving the job, interacting with patients and staff, and there's always lots going on.
"I keep telling people that they need to go to SDS for help with getting a new job! They've been really great in supporting me through the redundancy process. They've helped friends of mine too since I'd told them about SDS. They're so helpful and will help point you in the right direction and help with getting new skills as well. I would definitely tell people to use PACE and SDS to help you through redundancy. It was a great experience for me."