26 July 2023
More than 144,000 Scottish pupils offered help with their 2023 results
Scottish pupils are set to receive their full Higher, National and Advanced results on the 8th August 2023, and SDS' expert careers advisers will be on hand to help.
Approximately 144,000 pupils - along with their parents and carers - will be able to get support with their results through a dedicated helpline offering impartial career advice set up by Skills Development Scotland (SDS).
The SDS Results Helpline on 0808 100 8000 will be staffed by more than 30 expert careers advisers from across Scotland, and will be live from 8am on Tuesday the 8th August for four days to assist anybody that needs help with their options and next steps.
Education Secretary Jenny Gilruth said: "Results day can be a very emotional one for pupils, parents and carers, so the opportunity to speak directly with someone who can offer impartial, expert advice on your options can be really valuable.
"Whatever your results, there are options out there for you. I would encourage anyone with any concerns, no matter how small, to phone the SDS careers experts on 0808 100 8000 if they need any advice or reassurance."
SDS' careers advisers will be on hand to offer advice about all post school options including UK colleges and universities, Confirmation and Clearing, apprenticeships, jobs and volunteering.
The helpline will be open 12 hours a day for the first two days, (8am to 8pm on the 8 and 9 August), and then normal working hours for the last two days (9am to 5pm on the 10 and 11 August).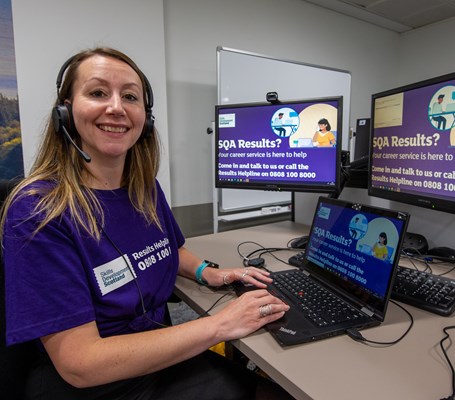 This was just incredible. I went from worrying and panicking about what my next step would be and all my doubts were cleared plus more, thank you very much for that.
Sharon McIntyre, Head of Career Information, Advice and Guidance Operations at the national skills agency, added: "It's important to reassure people that no matter what their results are, our advisers are there to provide expert advice on the breadth of options open to them.
"Approximately 80% of all calls come in on the first two days of the helpline, hence the reason we have expanded hours for those first couple of days.
"But even after the Results Helpline closes, people of all ages can still get great advice anytime from our careers advisers across the country, in school or through our local centres and community venues, as well as online at My World of Work. The number to call after the helpline closes is 0800 917 8000."
The lady was very kind and very helpful......and made me feel proud of my results and more confident in how to move forward