Skills for Growth helps company dig deep for success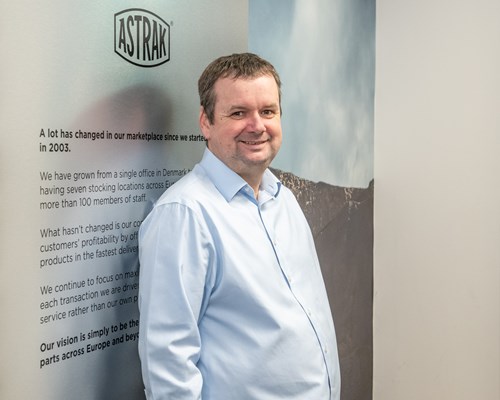 Astrak, has been providing earth moving equipment for over 18 years, supplying undercarriage and parts for track machinery to all industry sectors.
The company, based in Kirkcaldy has seen rapid growth and now employs over 100 people.
John Wyllie, Group Operations Manager for Astrak, has witnessed the company grow and evolve, and this has influenced their vision for the workforce.
When John needed to expand and further the Astrak training offer, he turned to the Skills for Growth service from Skills Development Scotland (SDS) to help.
John said, "The company had been growing fast and it was time to become investors in people. We have great people working for us and we wanted to help them develop within the company."
Sometimes, if there was an opening for a senior position, we would hire from the outside and that's something we wanted to change. We thought it was important to give people already working for Astrak the opportunity to advance in their careers and Skills for Growth helped us figured that out and put plans in place.
John Wyllie
Group Operations Manager
Structured plan for employee development
When Astrak contacted SDS two years ago for Skills for Growth support, a plan was developed to help their workforce reach their full potential. Focus areas included communication, upscaling and creating a personal development plan.
John said: "One of the changes we made was in the way we train people. Before we would follow a buddy system for new employees to learn the job. Now we use a competency-based system instead. This, alongside the personal development plan, is ensuring that every person has a clear career path. Every six months they meet with their trainer and discuss development, goals, and any other ideas they may have."
"In the past, Astrak had a more laid-back way of looking at the workforce. If somebody wanted to develop their skills or if a manager thought a member of staff would benefit, then they could do it. With this new approach however, employees all know what they are doing and where it can take them."
After working alongside SDS Employer Engagement Executive Kathryn Hill, Astrak concentrated on improving the training provision in the company. One of the first actions was hiring a coordinator to take control of the workforce development.
Kathryn said: "It was 2019 when we first supported Astrak and they were one of my first Skills for Growth customers. It has been great to be able to watch them and how they have grown their workforce. They have engaged in so many schemes such at Modern Apprenticeships, Graduate Apprenticeships, and utilising the Flexible Workforce Development Fund (FWDF). They have also since engaged with Business Gateway and Scottish Manufacturing Advisory Service (SMAS), so a wide range of engagements and support following the Skills for Growth."
"John and the team have completely changed how they approach offering career pathways and are always great at communicating their challenges so we can look at what support is available."
Young workforce
Most of the current workforce in Astrak's warehouse are under 30.
John said: "It is great being able to offer the young people who work with us a path for the future. We believe in giving people the opportunity to become the best version of themselves."
"Since undertaking Skills for Growth we have started working closely with the work apprenticeship schemes, both for Graduate and Modern Apprentices, four team members have come directly from university and we have also developed a relationship with Fife College and Napier University."
Kathryn added: "We recently funded an enhancement to work with the training coordinator, this was two days with The Leadership Factory to coach and support develop the Personal Development Plans. Even after 3 years we could still offer that valuable additional support!"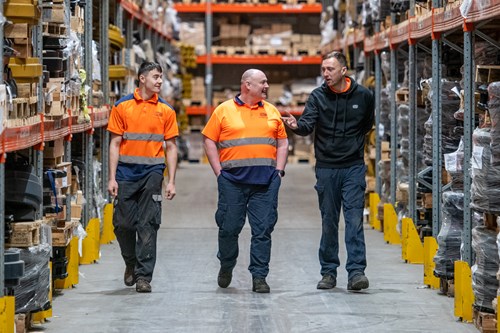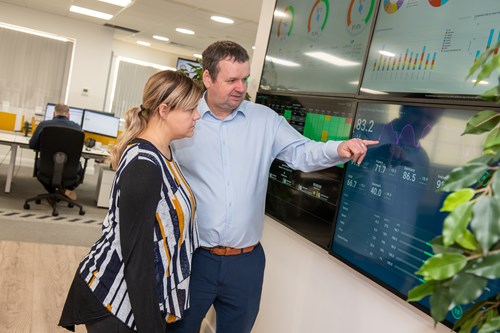 Working with Skills for Growth
Regarding the support Kathryn gave them, John said: "Working with SDS and the Skills for Growth team was a very easy process, even during lockdown.
We always had support from them and even if it couldn't be face-to-face, we always got answers and help."
"We ended up with a very tailored plan for our needs. The process was non-intrusive, respectful and Kathryn worked at our own pace. We got many pointers, which we found extremely valuable."
"I recommend Skills for Growth to other companies. It's a step towards showing your workforce that you care and are interested in them and their futures. It also helps to see things from a different perspective and get insights into matters we may have not considered."