18 August 2023
Nominations open for the Scottish Apprenticeship Awards
The commitment to developing skills in a changing world is set to be recognised at the Scottish Apprenticeship Awards. 
Organised by Skills Development Scotland, the awards will highlight employers and the significant contribution of Foundation, Modern and Graduate Apprentices across the country.   
Now in its 21st year, the flagship event will recognise the critical part apprenticeships play in delivering the skills Scotland's people and businesses need, both now and in the future.
Categories will showcase the individual achievements of apprentices, the incredible support shown by employers, learning providers and mentors, and the key role of apprenticeships in supporting Scotland's economic and climate change ambitions.  
The event will culminate with the announcement of Scotland's Apprentice of the Year.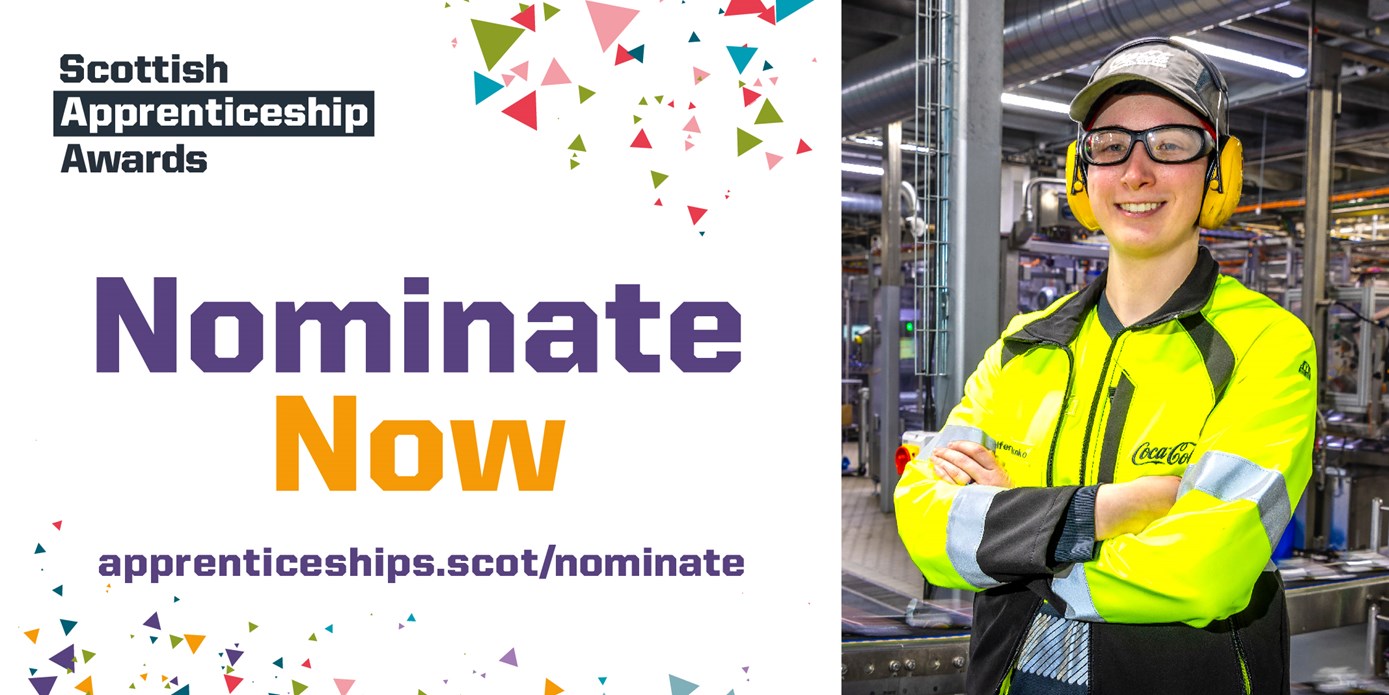 Chair of Skills Development Scotland, Frank Mitchell said: "It's never been more vital to recognise the extraordinary commitment of apprentices working hard to develop their skills and contribute to Scotland's economy.  
"Apprenticeships not only help the economy but also ensure positive outcomes for individuals, and open access to jobs for many young people from areas that traditionally restricted opportunities to progress. 
"It's equally important to acknowledge the outstanding support of employers, who continue to invest in apprenticeships to deliver innovation and adapt and sustain their businesses. 
"The Scottish Apprenticeship Awards will recognise the individual and collective impact of apprentices across sectors and shine a spotlight on the inspiring organisations and individuals who champion work-based learning."
Minister for Higher Education and Further Education, Youth Employment and Training, Jamie Hepburn said: "As we continue to adapt and respond to this period of economic challenge, it remains crucial to equip Scotland's people and businesses with the skills they need. 
"Apprenticeships and work-based learning enable individuals and employers to unlock their potential and have a central role in realising the Scottish Government's ambition to develop one of the most productive, inclusive and sustainable economies in the world, while ensuring fairer and more equal opportunities for all. 
"These awards are an important opportunity to recognise the impact of apprentices, their employers and supporters across the length and breadth of the country." 
Visit apprenticeships.scot/awards to find out more about the award categories and to submit nominations.  
The deadline for nominations is noon on Wednesday, 5 October 2022 and winners will be revealed during Scottish Apprenticeship Week, which takes place from 6-10 March 2023.