Modern Apprenticeship job has broken barriers for Ross
Scotrail's first deaf apprentice says his career is on track thanks to life-changing opportunity with the railway.
Nineteen-year-old Ross Henderson got into the Customer Services apprenticeship after his parents found the vacancy with ScotRail on apprenticeships.scot.
Ross said: "I never did well at school. I prefer to learn practically. I faced accessibility barriers because I'm deaf. I thought ScotRail would never take me on because of my hearing."
However, Ross, from Westhill in Aberdeenshire, gained an interview and was shocked to learn he had got the apprenticeship.
The job has helped Ross develop. He explained: "Since I started my Modern Apprenticeship, I've felt my confidence has really grown, because I'm dealing with challenges I've never dealt with before.
"It's amazing how many challenges you go through on a day-to-day basis here, in a railway station. All different ones as well – no day is the same.
"I was bullied as a child and I was quite down, but ever since I got this job in ScotRail my confidence has come right up."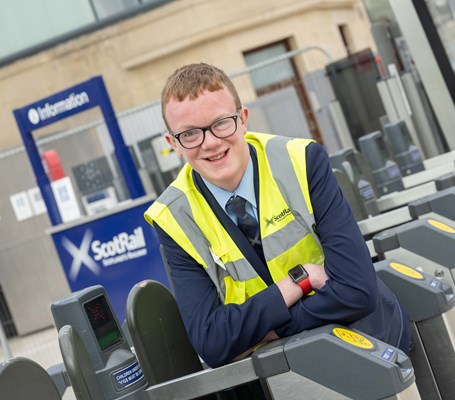 Ross added: "I like customers, relating with the public and helping other people. I cannot wait to just come down and interact with the customers and be with my colleagues. I don't like sitting in an office, I like being outdoors."
Talking about the help he's had from his colleagues, Ross said: "The support I've had has been amazing. Everyone is asking me questions and if I've made a mistake, they tell me. If they weren't here, I wouldn't be at the stage I am now."
Ross added: "I might be deaf, but, because you've got other disabilities, it doesn't make you different to everyone else. My Modern Apprenticeship has shown me what it's like to work and proven to me that I can do the job." 
ScotRail's Workforce Development Manager, Margaret Mellon recruited Ross and can see the incremental growth in his development since he started his 18-month apprenticeship.
Margaret said: "From the very first days of his apprenticeship, Ross found it challenging, but to see how much he has grown and matured is amazing.
"This was Aberdeen Station's first apprentice and Ross was coming with additional support needs, but the team took him on as their own. Now, he has become an integral part of that team and I'm always getting asked when Ross will complete his apprenticeship and be able to help them with other work in the station."
ScotRail's Early Careers strategy outlines a commitment to increase the number of apprenticeships and diversity of apprentices. According to Margaret, apprentices will support the business in a number of ways. She explained: "Having a diverse and inclusive workforce is also about supporting young people in our communities and we can develop that representation through apprenticeships."
Joanne Maguire, ScotRail Chief Operating Officer, said: "Having had the pleasure of meeting Ross twice myself, it has been fantastic to see how much he has grown and developed since starting his Modern Apprenticeship with ScotRail, and I hope his story inspires more people to consider the railway, and apprenticeships, as a viable career path."
Speaking on how an apprenticeship can benefit anyone with additional support needs or a disability, Ross said: "If you feel like your anxiety is really bad, or if you're deaf or if you have a disability, don't let that bring you down.
 "If you don't try an apprenticeship, you'll never know if you can achieve it. I know that if you give it a go, you'll always thrive in ScotRail."