06 October 2022
Career Review in action: supporting summer recruitment in tourism
A new short film produced as part of the Career Review showcases the power of community engagement, meeting employer demand and joined up working.
Published earlier this year, the independent Career Review made a series of powerful recommendations that are shaping the future of Scotland's career services. 
Now being taken forward into implementation planning, the review will report to Ministers later this year with further detail on how these services should be delivered.
In the first of a new series of short films designed to showcase some of the principles of the career review in action, we focus on a project which demonstrates how career services in Inverness responded to the needs of the local labour market.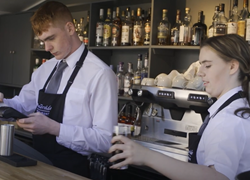 Like many communities across the country, the economy of Inverness and surrounding areas is heavily dependent on a thriving tourism and hospitality industry. So when the Highland Hotels Association came to SDS with a recruitment crisis ahead of the critical summer trading period, the skills agency mobilised a strong partnership for action. Working hand in glove with local partners DYW Inverness and Central Highland, Job Centre Plus North Scotland and Highlands and Islands Enterprise, an action plan was developed designed to bring fresh talent into the industry at a time when it was needed most.
Through school engagement, taster sessions, recruitment fairs, work experience and targeted outreach, the partnership recruited over 50 new entrants to the sector in just a matter of weeks. Speaking about the project, Minister for Higher and Further Education, Youth Employment and Training Jamie Hepburn MSP said: "It's fantastic to see the hospitality industry identifying the challenge and seeking to create a solution in tandem with a range of local partners, coming together to ensure that young people can be matched up to high quality opportunities."
Vice Chair of the Highland Hotels Association Ina Davies said: "Together, we were able to get access to the schools near us and were able to sign people up to interviews there and then.  As a result, we were able to employ just over fifty candidates". SDS Director of CIAG Operations James Russell said: "This project embodies the principles of community engagement and empowerment, joined up partnership delivery, responsiveness to employer demand, and employer engagement with education. 
These principles are strongly advocated by the career review and so it is particularly pleasing to see the impact they can have on local communities."
To find out more about the career review visit www.CareerReview.scot