Graduate Apprenticeship helps Civil Engineer Shams become sector's top new talent
A Civil Engineering Graduate Apprenticeship laid the foundations for former refugee Shams Rahimi to build an award-winning career in construction.
Shams, a Technical Planner with GRAHAM Construction, said getting on-the-job experience while studying for his degree and earning was the ideal way to develop his career, build his confidence and forge a path in the industry.
Originally from Afghanistan, Shams arrived alone in the UK aged just 17 after making the difficult decision to leave behind family and friends in search of a better life.
Initially unable to find work, he didn't give up and enrolled in college, before looking for an opportunity on a construction site.Shams' perseverance paid off when he met a director at GRAHAM Construction and landed a Graduate Apprenticeship with the firm, thanks to his enthusiasm and determination.
Now 29, Shams has earned a first-class honours degree through Heriot-Watt University and recently scooped the Chartered Institute of Building (CIOB) Scotland's Graduate of the Year prize.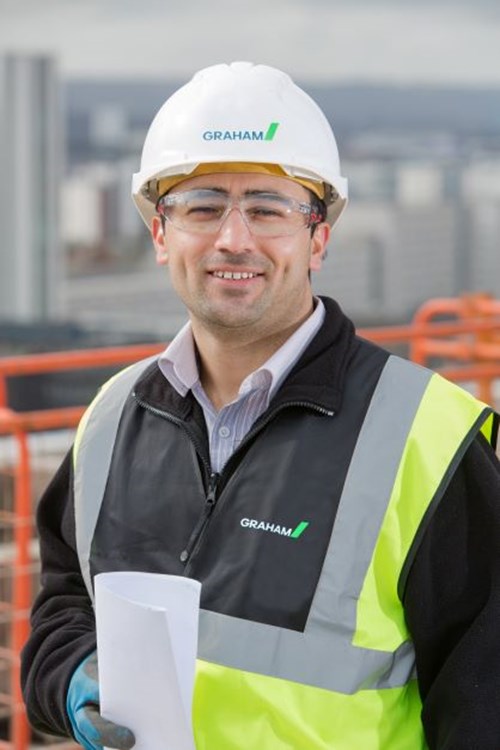 Graduate Apprenticeships are a way to get qualified up to Master's degree level while in paid employment. Designed by education and employers, Graduate Apprenticeships are offered in key sectors that need highly skilled employees.
Praising the support from the university and the business throughout his four-year Graduate Apprenticeship, Glasgow-based Shams said: "I like the fact that the Graduate Apprenticeship has allowed me to gain years of experience while becoming qualified academically.
"Doing what I can and doing it as best as I can has resulted in good outcomes and constant improvement for me."
Throughout his Graduate Apprenticeship, Shams impressed colleagues at GRAHAM and lecturers at Heriot-Watt with the consistently high level of performance and commitment that earned him a First when he graduated in 2021.
Shams said: "While Heriot-Watt University helped me with the Graduate Apprenticeship programme, especially academically, my employer GRAHAM has provided support and opportunities at work. I have always had a lot of different things to do in my job, so there have been lots of learning opportunities for me."
"One of the best aspects of the Graduate Apprenticeship has been earning while learning. Another is gaining a qualification while gaining experience, which has made me so confident at work as well as during my studies."
Shams' career has gone from strength to strength and he has taken on mentoring responsibilities for other apprentices and young people at the company.
Laurent Galbrun, programme director for Heriot-Watt's Civil Engineering Graduate Apprenticeship, said: "Shams' journey is a testimony to perseverance, dedication and humility.
"Since graduating last year, Shams has now taken on the role of work-based mentor for other Graduate Apprentices and is well on his way to a successful career."
Shams was nominated in the CIOB awards alongside his GRAHAM colleague Jos Mackie, another former Heriot-Watt Graduate Apprentice. At the event held in October 2022 in Glasgow, Shams' success was recognised by his peers.
Gary Holmes, Managing Director for GRAHAM's Building North region, said: "We are extremely proud of both Shams and Jos for their impressive achievements and continued hard work as construction professionals.
"Shams' win at the CIOB Scotland Awards is a result of his excellent work ethic, eagerness to learn and consistently being a team player, and we look forward to helping him further his career at GRAHAM."
Debbie Rutherford, Social Impact Manager at GRAHAM Building North, said: "The construction industry is experiencing a real skills shortage. To address this, GRAHAM has made a significant investment in the training and upskilling of colleagues with the aim of building future talent – and retaining existing skills for the company.
"It has been well documented that the candidate pool of construction workers is shrinking at an unsustainable rate, and long-term solutions are required.  Therefore, earn as you learn schemes such as the Graduate Apprenticeships are critical for employers.
 "Our apprentices are not only obtaining qualifications, but they are also gaining invaluable experience which benefits us as an employer.
"The knowledge our colleagues are acquiring is being applied on sites, which brings positive change through fresh new methods and different ways of thinking. Very importantly, Graduate Apprenticeships are opening up the industry to new demographics and creating a diverse and inclusive workforce."