10 November 2022
Demand for green jobs in Scotland is growing
Report defining and estimating green jobs is published
Demand for green jobs is increasing in Scotland with existing jobs transforming to reflect Scotland's just transition to net zero. 
That is one of the findings of new research from the Universities of Warwick and Strathclyde to define and estimate green jobs in Scotland.  
'Green Jobs in Scotland: An inclusive approach to definition, measurement and analysis' also found green jobs offer higher-than-average salaries.
Launched during Scottish Careers Week and on Youth and Future Generations Day at COP27 (10 November), the report was commissioned by the Implementation Steering Group behind Scotland's Climate Emergency Skills Action Plan, with the support of Skills Development Scotland (SDS) and the Scottish Government.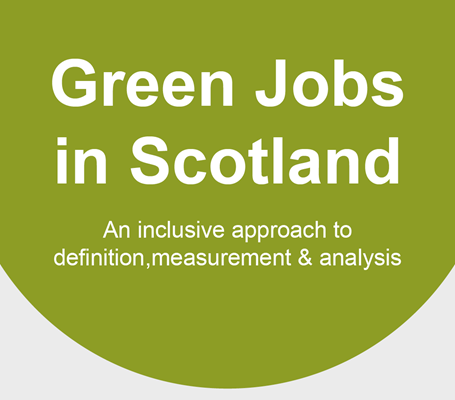 This definition is vital for Scotland and means all of us with a stake in the skills system can use the data to better meet demands and address inequalities.
Professor Dave Reay
Chair, Climate Emergency Skills Action Plan Steering Group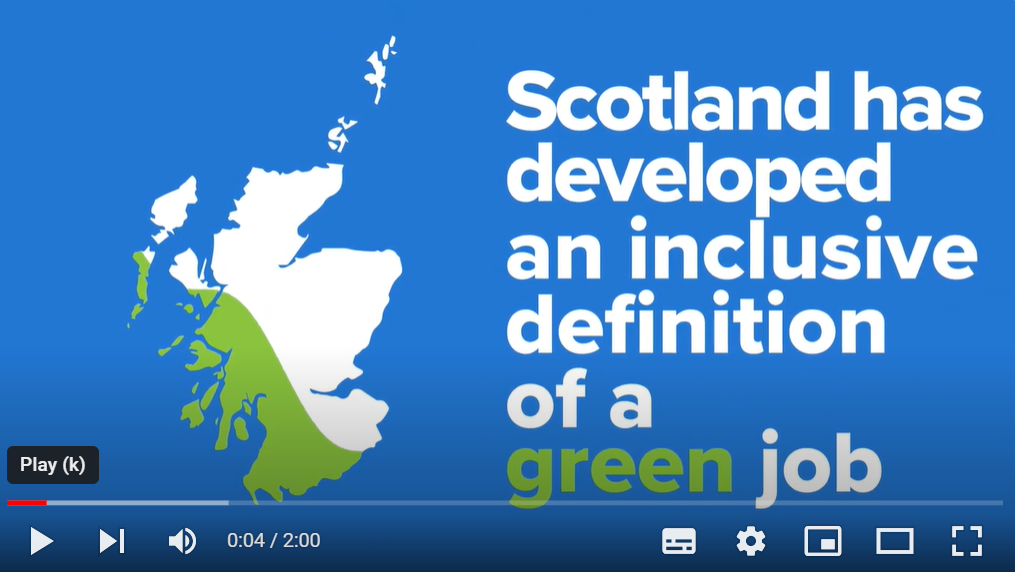 Welcoming the report
Minister for Just Transition, Employment and Fair Work Richard Lochhead said: "Scotland's green jobs revolution is underway and I warmly welcome this new report that provides an initial estimate that up to 100,000 roles are 'new and emerging' green jobs. Although the researchers regard this as an upper estimate, it is encouraging to see a strong greening of jobs in Scotland. 
"It is particularly appropriate today, on Youth and Future Generations Day at COP27, to reaffirm the importance that, as we transition our society and economy towards a low-carbon, net zero future, no individual, community or region is left behind. This report can play a part in ensuring Scotland's economic transformation is managed fairly for our future generations along with workers in existing industries and the communities they support. 
"While the report highlights and supports Scotland's move to net zero by driving understanding and action to support reskilling and upskilling it also shows more needs to be done to address the gender imbalance in green jobs."  
Dr Jeisson Cardenas-Rubio, who worked on the research for University of Warwick, said: "The research undertaken by the team at the Warwick Institute for Employment Research and Strathclyde University has revealed that Scotland jobs are greening. 
"New green jobs are being created and existing ones are transforming to reflect new green needs. Scotland's policy push towards its net zero targets is being boosted by these changes to its jobs."
Natalie Buxton, Chair of the Scottish Apprenticeship Advisory Board's Gender Commission said: "We know that women are vastly under-represented in sectors such as engineering and construction which offer 'high value' occupations and better pay, therefore it is no surprise that almost three-quarters of green jobs are currently done by men.
"There is much that employers, government and key influencers can do to address a lack of workforce gender diversity and the Scottish Apprenticeship Advisory Board's Gender Commission offers clear recommendations on actions which can be taken now, and in the longer term to help address this longstanding societal issue."
Linda Christie, SDS Head of Green Skills, said: "Reskilling and upskilling our existing workforce is crucial to contributing towards Scotland's net zero ambitions and supporting the skills requirements for a low carbon economy. 
"This definition is key to informing what the likely green skills requirements will be and crucially, what skills are required to support industry, by continuing to contribute towards the ambitions set out in the Scotland's Climate Emergency Skills Action Plan."