05 May 2022
Apprentices serving up UK-wide success for small business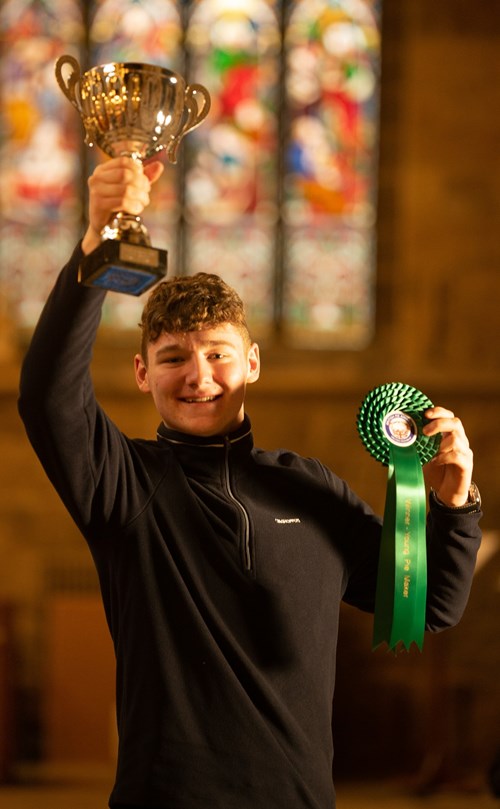 Talented apprentices are helping an Angus pie-making business achieve its potential and win UK-wide recognition. 
WeeCOOK is savouring a double victory in food competition, the British Pie Awards. Paul Curran, 16, scooped the Young Piemaker of the Year prize - the second victory in consecutive years in the category for the family-run restaurant, delivery and takeaway operation based near Carnoustie. The Modern Apprentice proudly hoisted the trophy at the event held in famed UK pie capital Melton Mowbray, Leicestershire. Paul, of Monifieth, Angus, is the youngest apprentice at the business, and is earning while he learns on his Professional Cookery Modern Apprenticeship.
Apprenticeships a key ingredient 
The teenager's success at the awards comes after his colleague, apprentice Anya Sturrock, 18, took the same title in 2021.  Anya, also from Monifieth, was a sixth year pupil and working as a kitchen porter at WeeCOOK when she left school to start her Professional Cookery Modern Apprenticeship at the suggestion of chef-owner Hayley Wilkes.  
But Anya and her fellow apprentices faced a steep learning curve during the Covid-19 lockdown in March 2020, meaning they had to quickly adapt to socially distanced working and learning at Dundee and Angus College. On top of this, the team worked to adapt the firm's offering when the restaurant closed its doors, by setting up takeaway and delivery services. As well as helping the firm navigate the choppy waters of the pandemic, WeeCOOK's apprentices are still bringing plenty to the table for the business.
Apprenticeships are a key ingredient of expansion plans for the company, which currently employs four Modern Apprentices. 
Hayley, who founded the business in 2011, has praised their teamwork ethos and professionalism, and says they are setting new benchmarks and high standards for future apprentices. 
Hayley said: "We recently recruited Tessa as another Hospitality apprentice to work alongside Paul. Ethan, our former Hospitality and now Professional Chef apprentice, has just celebrated his third year with us.
"Anya is close to completing her apprenticeship in June and will become our baker and pastry chef.
"We're now on the hunt for a Hospitality Management apprentice, to tie in with the next stage of our growth plans as we restart the outside catering and event catering side of our business.  
"There's exciting times ahead and our apprentices are key to helping us achieve our business potential.
"Together, the apprentices form a formidable collective and energetic presence essential to the success of our team and the future of our business."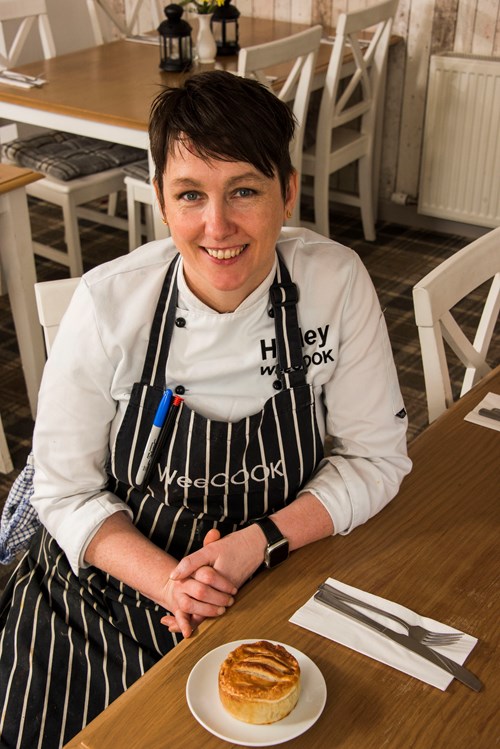 Community benefits 
Glory in Melton Mowbray in the last two years has provided sweet success following an earlier setback when WeeCOOK lost its original premises. After moving to the current site at Barry Downs holiday park, Hayley got the operation back on track with the help of Skills Development Scotland's Skills for Growth service.  
She believes that providing opportunities for young people like Paul and Anya is of vital importance not only to her business but also to the community, offering motivated locals work experience, employment, and a place to learn their trade.  
Modern Apprenticeships are jobs open to anyone aged 16 and over who want to work, learn and earn. Apprentices spend most of their time learning in the workplace while being supported by a local college or other learning provider to gain an industry recognised qualification. 
In the wake of Paul's success, Hayley said: "The team are over the moon for Paul, who has developed so much since starting with us.  
"Paul has done himself, his family and his team proud, and is a worthy winner of his award and huge trophy."
WeeCOOK also bagged Fish Pie of the Year gold at the British Pie Awards for its salmon and Arbroath Smokie-laden Fishwife Pie, as well as silver and bronze medals in other categories.
Find out more about apprenticeships and check out the latest vacancies at www.apprenticeships.scot