SSE apprentices inspired by COP26 will lead on the road to net zero
Apprentices motivated by COP26 are being supported to bring new ideas, skills and innovative thinking to help SSE plc reach its net zero goal by 2050.
SSE, a multinational energy company headquartered in Perth, has to date employed around 2000 apprentices and currently has two Foundation Apprentices, 88 Modern Apprentices and 34 Graduate Apprentices.
Through COP26, SSE increased awareness with apprentices of the actions needed to tackle climate change, this impact contributing towards being named as a finalist in the Supporting Net Zero Employer of the Year proudly sponsored by South of Scotland Enterprise at this year's Scottish Apprenticeship Awards.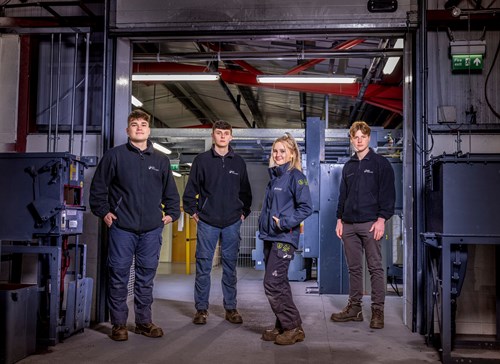 SSE Future Skills Programme Manager Kayleigh Bell said: "SSE's involvement in COP26 has inspired our apprentices to focus on and prioritise the skills and behaviours required to protect our planet.
"Having their voice listened to by world leaders and members of parliament made apprentices feel empowered and in charge of implementing necessary changes and a shift in behaviours. SSE saw a number of employees represent our vision and passion at COP26. Renewable Operations Apprentice Ruraraidh Johnstone was one of our apprentices who met with a Scottish MSP on the Electric COP26 bus at Scottish Parliament.
"Ruraraidh championed the benefits of Apprenticeships and spoke to MSPs about why he thinks Apprenticeships should be a topic spoken about more in schools and the benefits of learning whilst gaining hand on experience. Ruaraidh also spoke about how since starting his Apprenticeship at SSE he has seen how renewable energy is the future, providing jobs for local communities like Pitlochry. It also helps communities better understand where small differences can be made to help not only SSE's Net Zero target but Scotland's too. 
"We have witnessed an increased sense of motivation and passion among our apprentices and a determination to complete their learning journey during which they learn all the skills and gain knowledge so much needed to be able to deliver COP26 agreements.
"We hope to see the impact of our COP26 involvement inspire future apprentices for years to come and contribute towards the successful development of future apprenticeship pipeline activity. We are powering change in a way that our apprentices feel proud to be a part of and COP26 has contributed towards this."
Ruraraidh championed the benefits of Apprenticeships and spoke to MSPs about why he thinks Apprenticeships should be a topic spoken about more in schools.
Kayleigh Bell
SSE Future Skills Programme Manager
To help capitalise on that increased enthusiasm, SSE created a new Climate Academy to offer all employees and apprentices the chance to benefit from online learning led by external experts.
John Stewart, Director of HR at SSE: "As a principal partner to the UK Government at COP26, one of our key goals is to build a lasting legacy for SSE's employees, something we can each feel proud of for years to come.
"A considerable part of that commitment is about investing in our people, who are already powering change through the work we're doing to make net-zero a reality.
"That's why we've invested in the Climate Academy, a series of five online learning sessions that will equip our employees with the knowledge to make a positive impact on Climate Control.​​​​​​​ The five session topics – An overview of Climate and Carbon, Net Zero, Climate Adaptation, Climate Change and Nature and Climate Change and People – are each co-hosted by a business expert and senior leader.
"We continue to raise Net Zero awareness and showcasing our commitment to the ambitious climate action agreed at COP26 encouraging our employees to add their names to our call for action and will emblazon on a blade of a wind turbine at the world's largest offshore wind farm at Dogger Bank. An innovative opportunity for us to leave a lasting legacy and poignant mark on this pivotal moment in history. We were immensely proud to see world leaders also sign their names to pledge action whilst at COP26."
One of our key goals is to build a lasting legacy for SSE's employees.
John Stewart
Director of HR at SSE
SSE push ambitious climate action to halt global warming with the help of the very best skill force in the industry and Apprentices play a big part in this ambition. We plan to treble renewable output by 2030, build the electricity infrastructure to connect more clean power and commit to cutting our carbon intensity of our electricity generation by 60% by 2030.
Over 12,000 employers support Scottish Apprenticeships, which are work-based learning opportunities or jobs with industry-recognised qualifications. Designed with employers for employers, Scottish Apprenticeships are demand-led and responsive to regional skills needs.
Kayleigh said: "To reach our net zero goal by 2050, now more than ever our organisation needs people who can bring big ideas, new skills and innovative thinking. 
"This will help us build a world that's more sustainable and inclusive for our customers, our stakeholders, our colleagues, their families, our local communities and for the generations of the future. 
"For SSE, our apprenticeship pipeline is a great way of ensuring that we attract the right people with the right skills and behaviours to meet our net zero ambition and more."
Scottish Apprenticeship Awards
The winner of the Supporting Net Zero Apprentice Employer of the Year category sponsored by South of Scotland Enterprise was revealed at the Scottish Apprenticeship Awards, organised by Skills Development Scotland.
Find out more about the award finalists and the event at Apprenticeships.scot/awards