ScottishPower energised by a more diverse workforce inspired by apprentices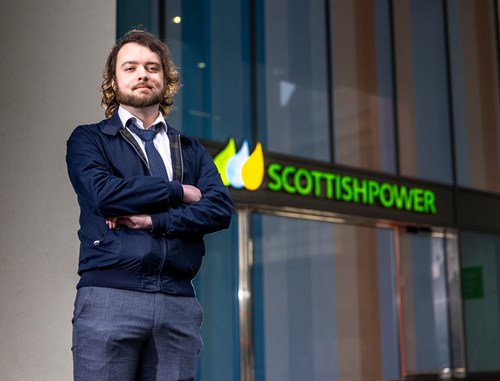 Apprenticeships that open new doors for people with learning disabilities and females aspiring to work in the energy sector has provided ScottishPower with value beyond measure.
For ScottishPower, the Glasgow-based energy company, the ability to provide a variety of apprenticeship programmes is enabling the recruitment and development of a more diverse workforce, such as more than 20% of project management apprentices being female.  
One particular apprenticeship journey, thanks to the company's Breaking Barriers initiative, is the perfect example of this success, which has led to ScottishPower winning the Large Employer – Promoting Diversity category of this year's Scottish Apprenticeship Awards. 
ScottishPower Development and Funding Coordinator Andy Sturgeon said: "Breaking Barriers - delivered in partnership with The University of Strathclyde and Enable Scotland – sees learners study for a Certificate in Applied Business Skills at Strathclyde Business School and undertake work experience with ScottishPower. 
"The programme aims to raise aspirations for people who have a learning disability and provide equal opportunities to access university. In 2020 Lewis Cassidy, who has autism, was successful in gaining a Graduate Apprenticeship. Lewis' personal journey has been fantastic – and you really can't put a value on what success means to everyone especially Lewis as an individual."  
To ensure we have a diverse workforce we have a developed a number of pre-employment programmes so that we can engage with different groups.
Andy Sturgeon
ScottishPower Development and Funding Coordinator
ScottishPower's investment in a more diverse workforce is helping the company address the twin challenges of an ageing workforce and ongoing new skills requirements, all while it continues to evolve within a changing industry on the road to net zero.  
Andy continued: "To ensure we have a diverse workforce we have a developed a number of pre-employment programmes so that we can engage with different groups. One example is our Pre-Apprenticeship, an engineering programme delivered across the UK.  
"We have invested £50,000 in two programmes in Edinburgh and Glasgow Clyde Colleges supporting 28 students. These are aimed at young people who do not meet the entry requirements for an apprenticeship – so we enable them to complete qualifications and training at the ScottishPower training centre and then fast track through a number of the apprenticeship recruitment processes.  
"To date 25 per cent have moved into apprenticeships with ScottishPower. A recent report shows that 65 per cent have remained in technical roles with us while a further 25 per cent have advanced to higher roles. That hybrid approach of working with partners, in this case colleges, can help meet and address any circumstances." 
Over 12,000 employers support Scottish Apprenticeships, which are work-based learning opportunities or jobs with industry-recognised qualifications. Designed with employers for employers, Scottish Apprenticeships are demand-led and responsive to regional skills needs. 
Andy said: "In 2019 we reviewed our entry requirements into apprenticeships. English, Maths & Science were the entry level requirements for ScottishPower.  
"We had reviewed national qualification statistics to see how many females were studying the science subjects at school. However, the numbers were not high particularly in Physics. As a result we now ask for a science, technology, engineering or maths related subject which has widened the reach. We are now seeing female applications across all apprenticeship programmes."